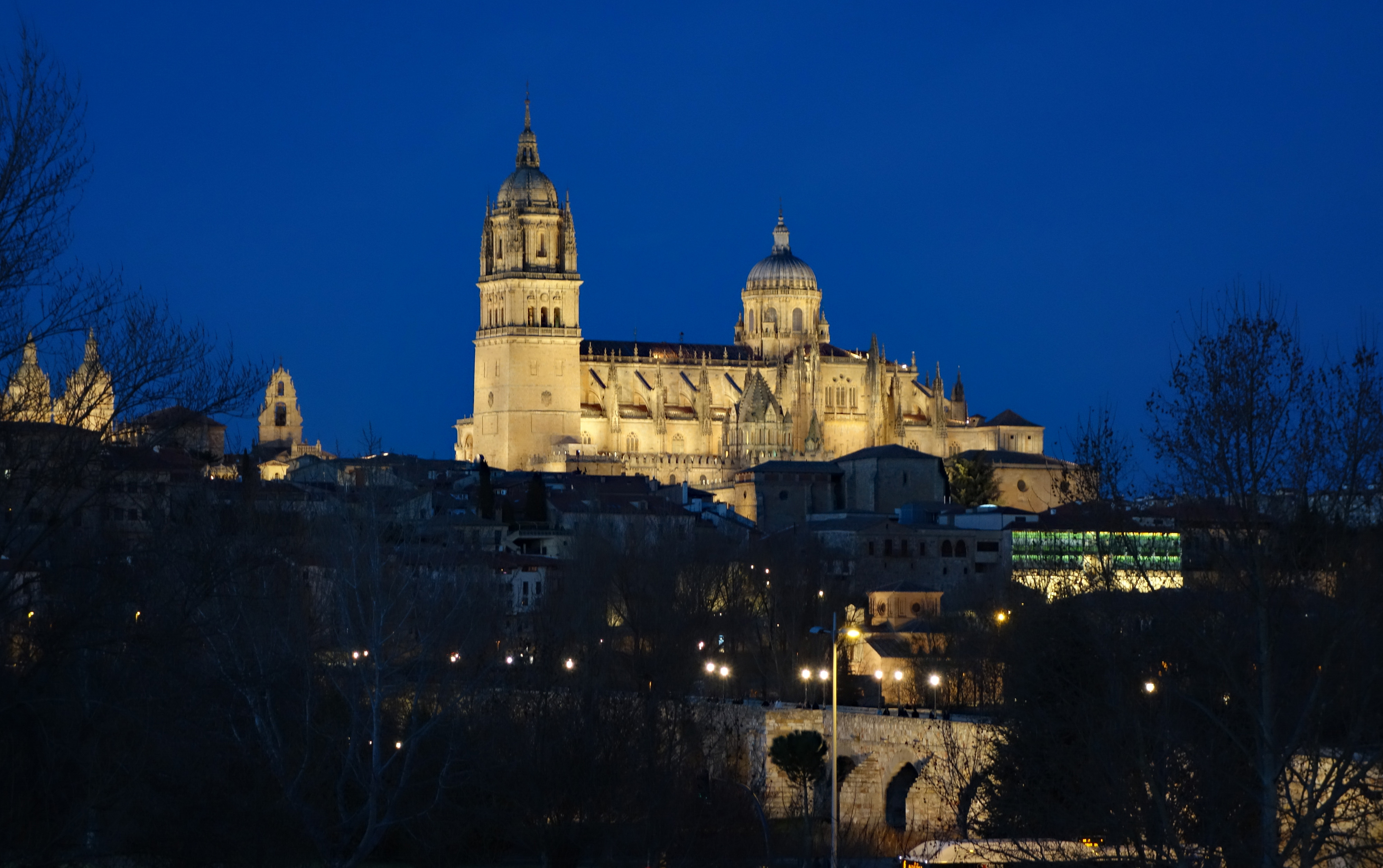 We arrived in Salamanca late afternoon and by the time we got settled into our latest apartment we were rewarded with the above view from our dining room window.  The beautiful cathedral and Roman bridge in the foreground are lit up every night, not a bad trade for our recent ocean views in Porto 🙂
Salamanca is the capital of the Salamanca province with a history dating back to the Celtic era and a UNESCO World Heritage city.  It is known for its ornate golden sandstone architecture and for the Universidad de Salamanca, founded in the 1100's and a key intellectual center in the 15th-16th centuries.  It was the first university in Spain and is the fourth oldest university in the world.  To enjoy the diversity of the city, one must only go for a short walk through the historic center where Romanesque, Gothic, Moorish, Renaissance and Baroque architecture all mingle together.  Walking through the streets at any time of day is to tour an open-air museum.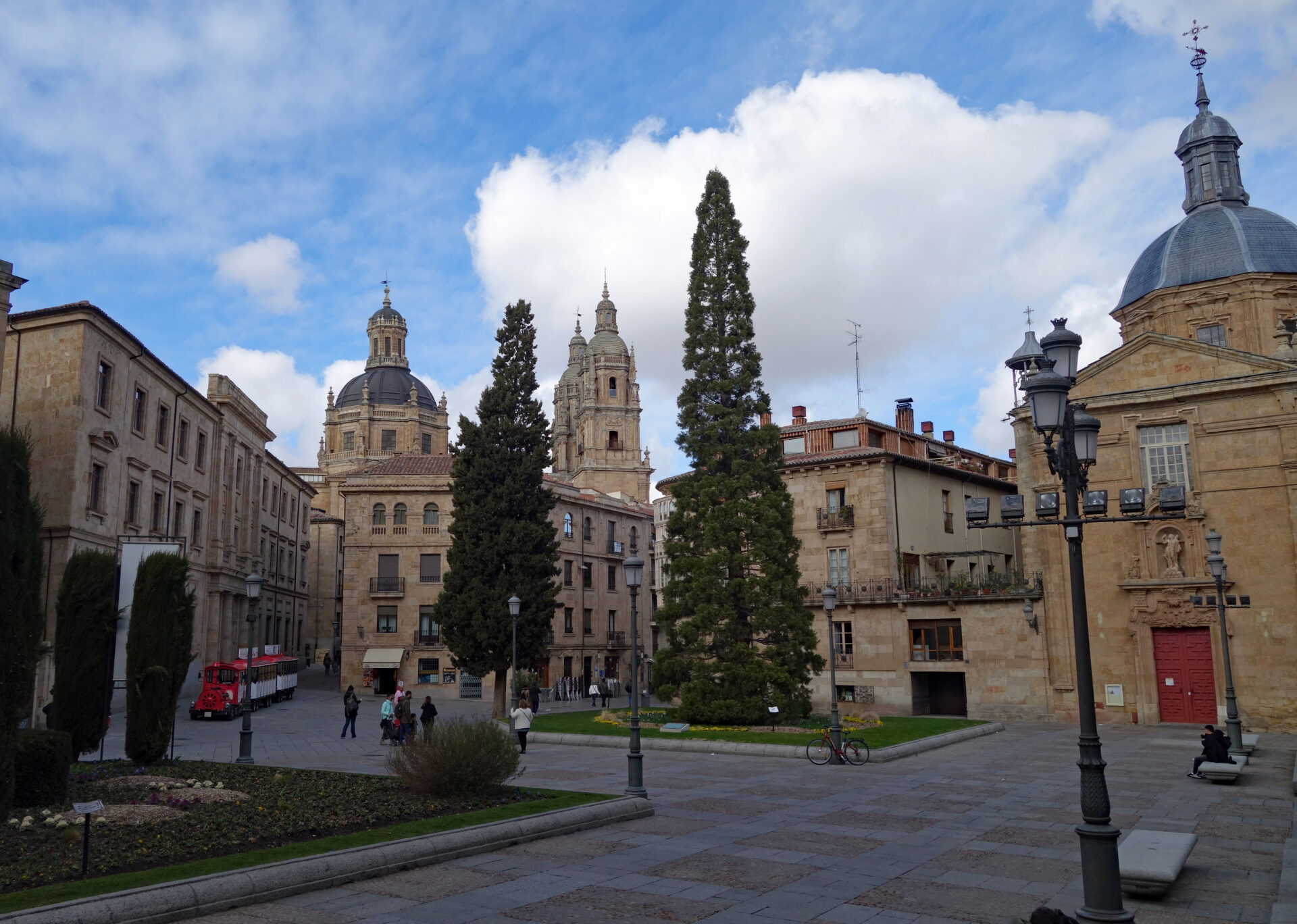 Salamanca boasts not one, but two cathedrals, fused together.  The Old Cathedral is Romanesque, dating from the 12th century and is famous for its ornate Gallo Tower. The adjoining New Cathedral was built in stages from 1509 and combines late Gothic architecture with the Renaissance style.  Amazingly, it took over two hundred years to build and was completed in 1734.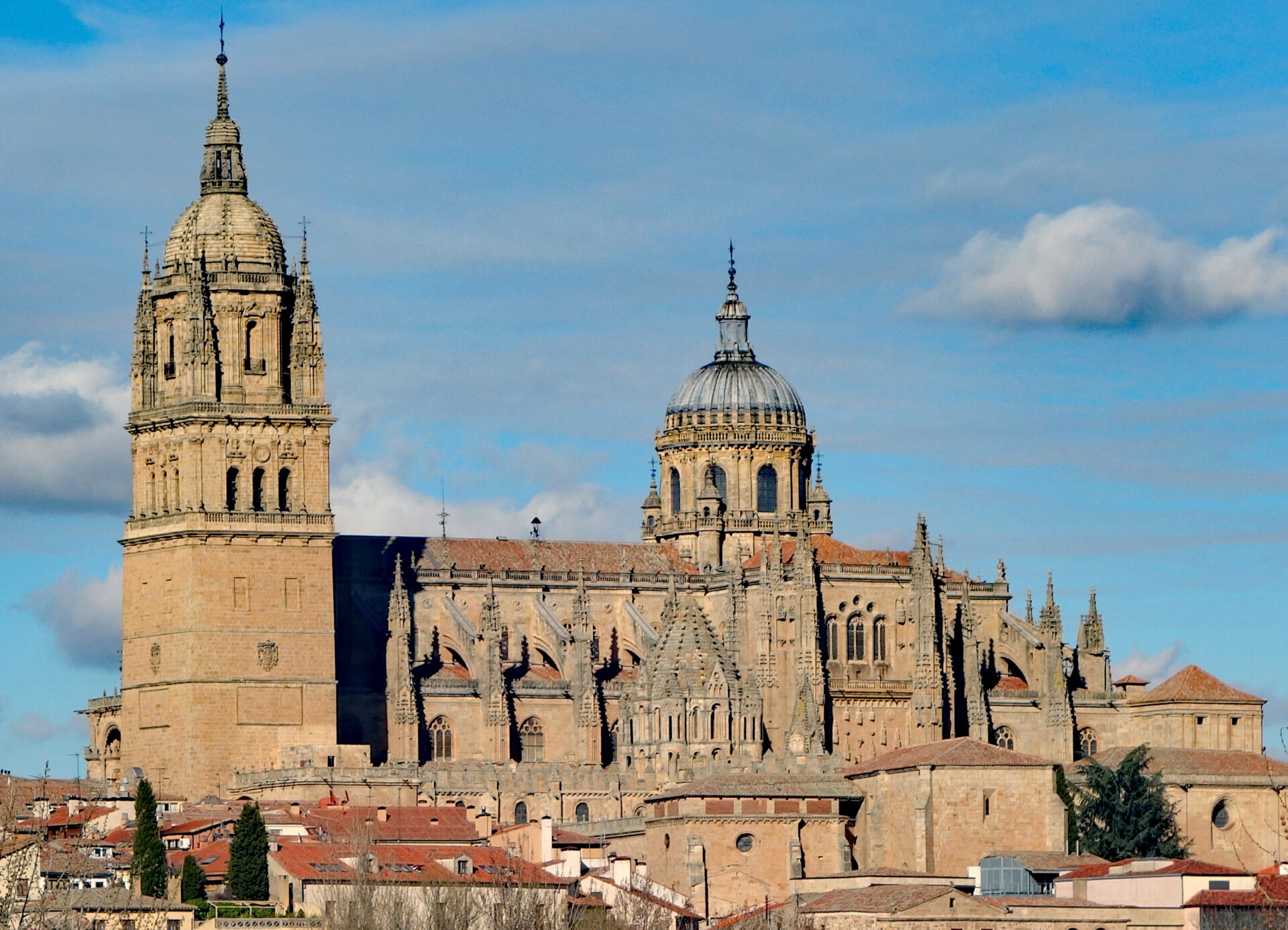 Among the ornate carvings on the facade are those of a little faun smirking at you, and very clearly eating an ice cream cone, and another of an astronaut – both added during restoration work in 1992 by mischievous stonemasons.  It was a bit like finding a needle in a haystack searching for these carvings, but find them we did, after a fair amount of internet research by Blair on their location.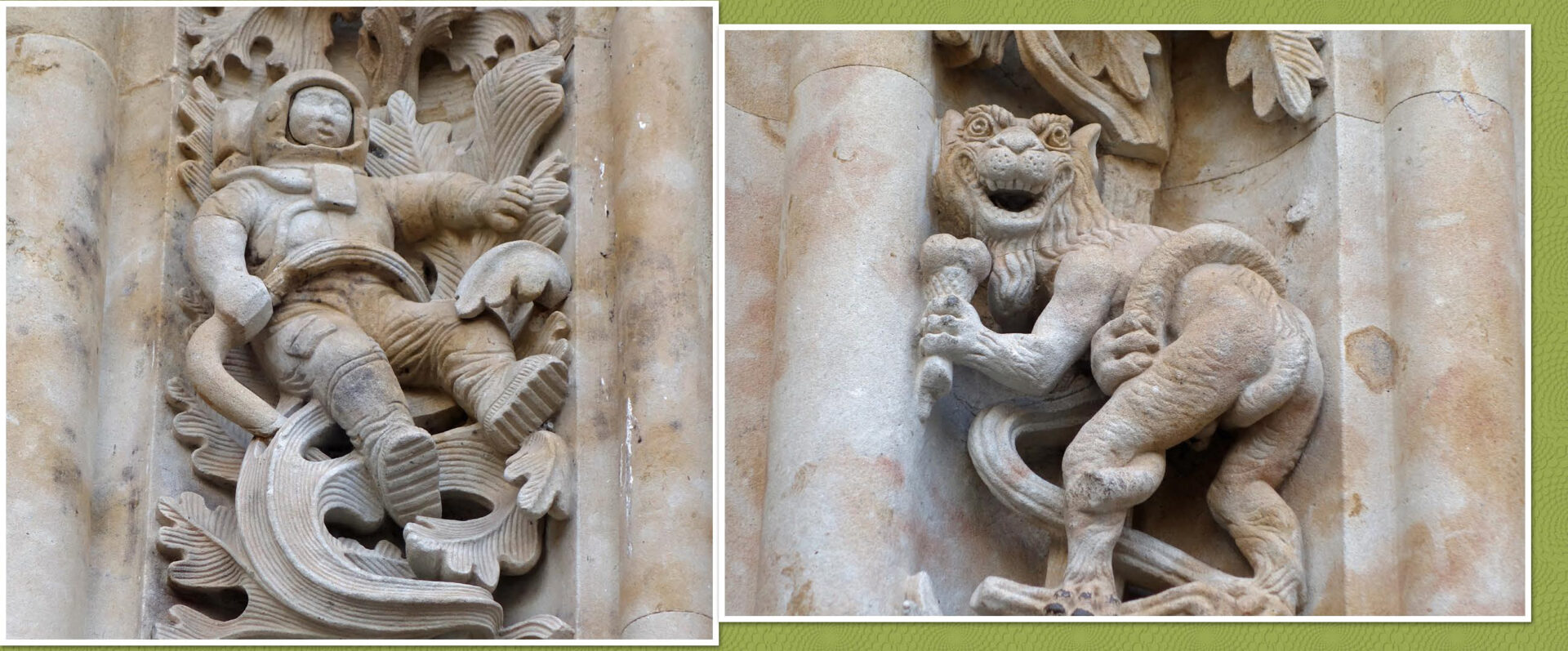 Another needle in the haystack project was searching out the infamous frog on the beautiful facade of the University of Salamanca, dating from 1529.  You can find the frog sat atop a scull carved into the facade, and there are a few different theories as to why it's there. One such theory is directly linked to the university. This story says that the students studying at university had to try and find the tiny frog amongst the carvings on the facade, and if they managed this without help they would pass their exams and have good luck.  Perhaps we will have good luck after finding the frog ourselves 🙂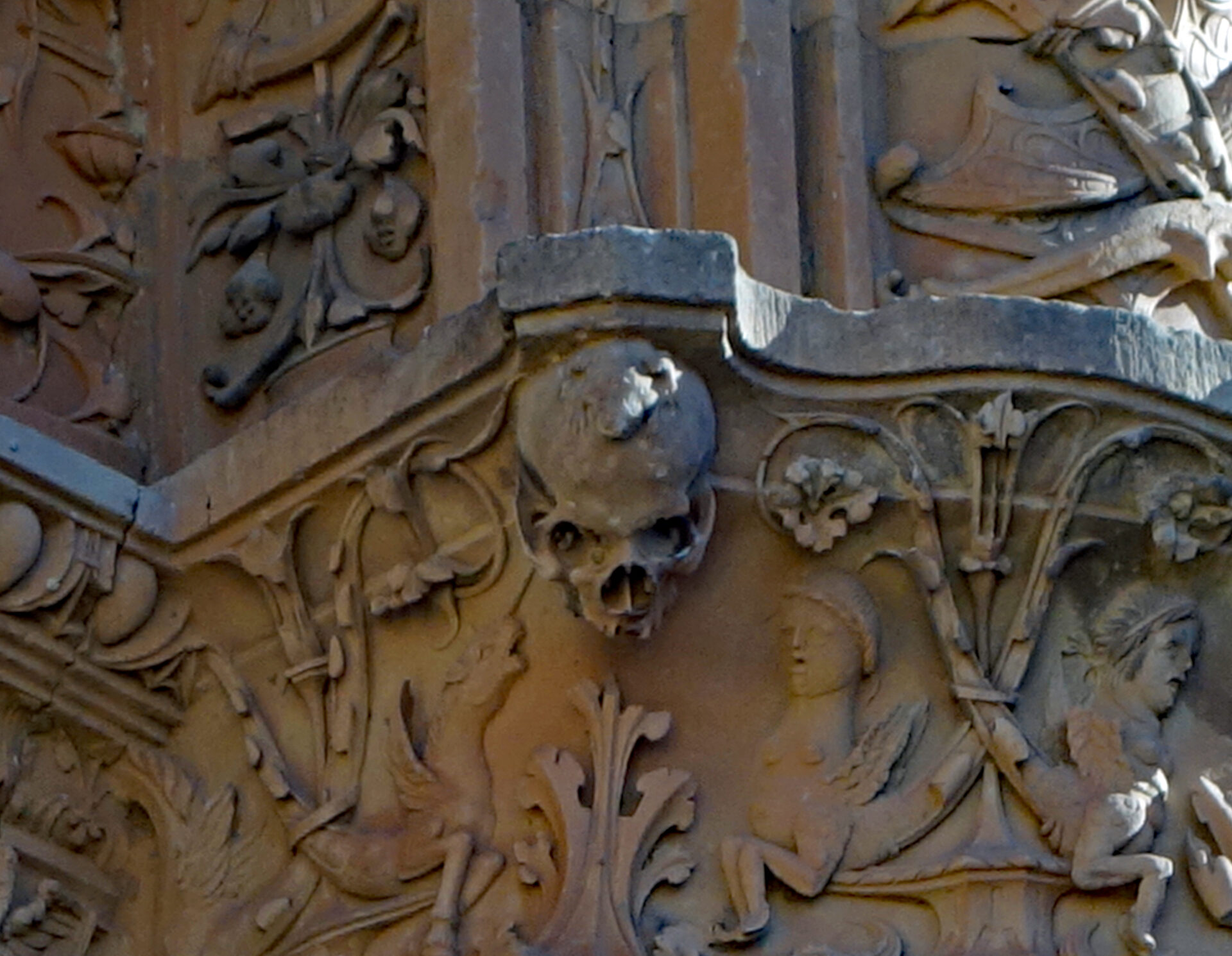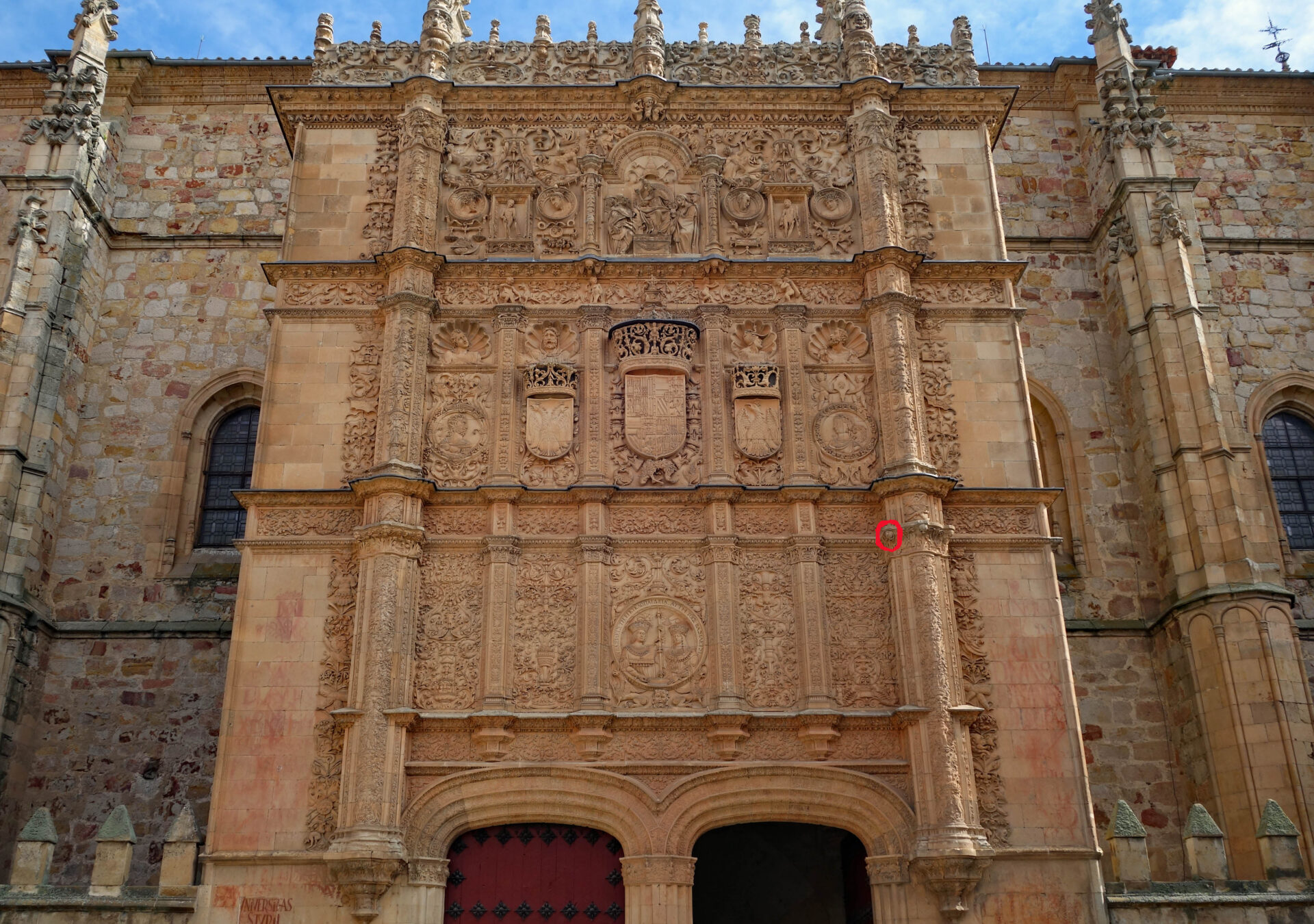 The Ieronimus Tower of the Salamanca Cathedral is one of the city's best known landmarks, constructed over 900 years ago and second in height only to the Giralda Tower in Seville, which we have recently admired, and climbed.  We purchased a ticket to climb this tower which allowed us access to the roof of the old cathedral, a high interior balcony inside the old cathedral, a high balcony ledge running along one end of the new cathedral, and to the very top of the tower itself.   The ticket cost was a very reasonable 3.75 Euros each (4.25 USD).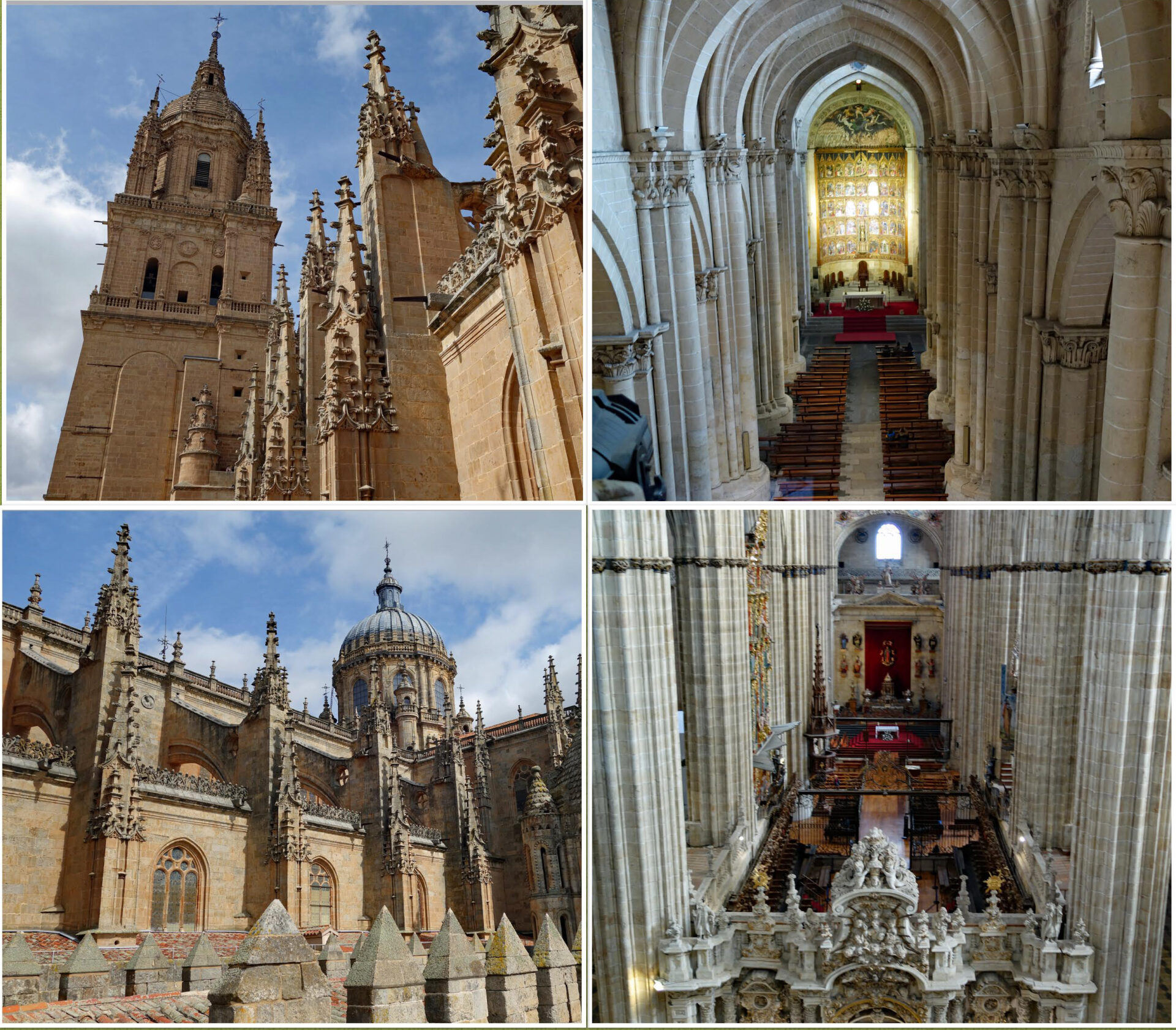 Plaza Mayor, one of the largest in Spain, is considered one of the most beautiful plazas in all of Spain.  Constructed between 1729 and 1755, Plaza Mayor is a stunning example of Baroque style with intricate decorations and sweeping arches. Initially used as a bull fighting arena it is now home to boutique shops, bars and restaurants.  The plaza is a bustling spot at all hours of the day, highly regarded by locals as a place to socialize.  It was here we joined the locals enjoying an afternoon sangria and a little people watching.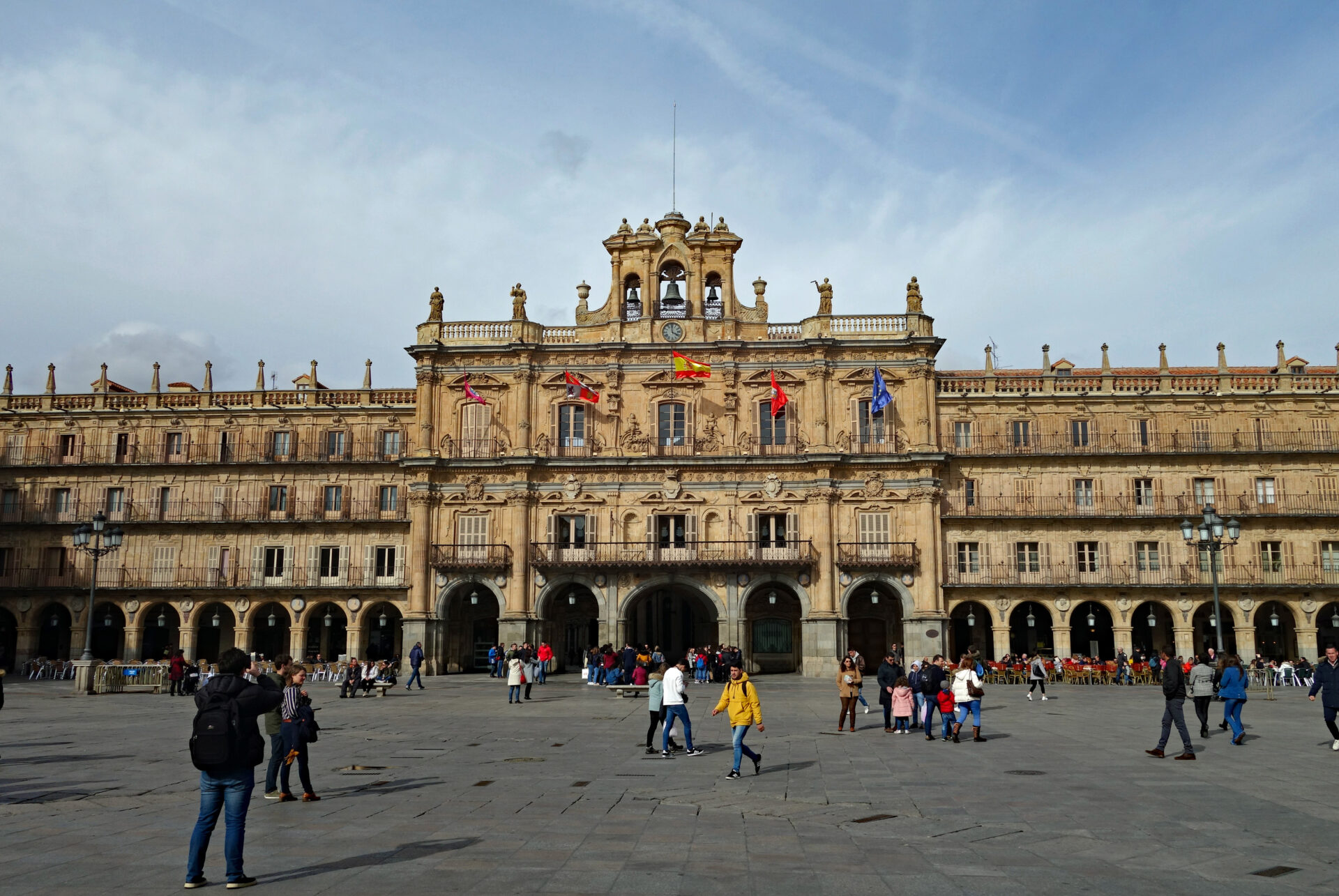 Puente Romano de Salamanca, an elegant Romanesque bridge, made with 26 granite arches, spans the Tormes River and is how we cross the river into the city center each day.  Originally constructed in the year 89, it was reconstructed after being damaged by flooding in the 17th century.  Imagine the history underfoot as we walk across this ancient bridge!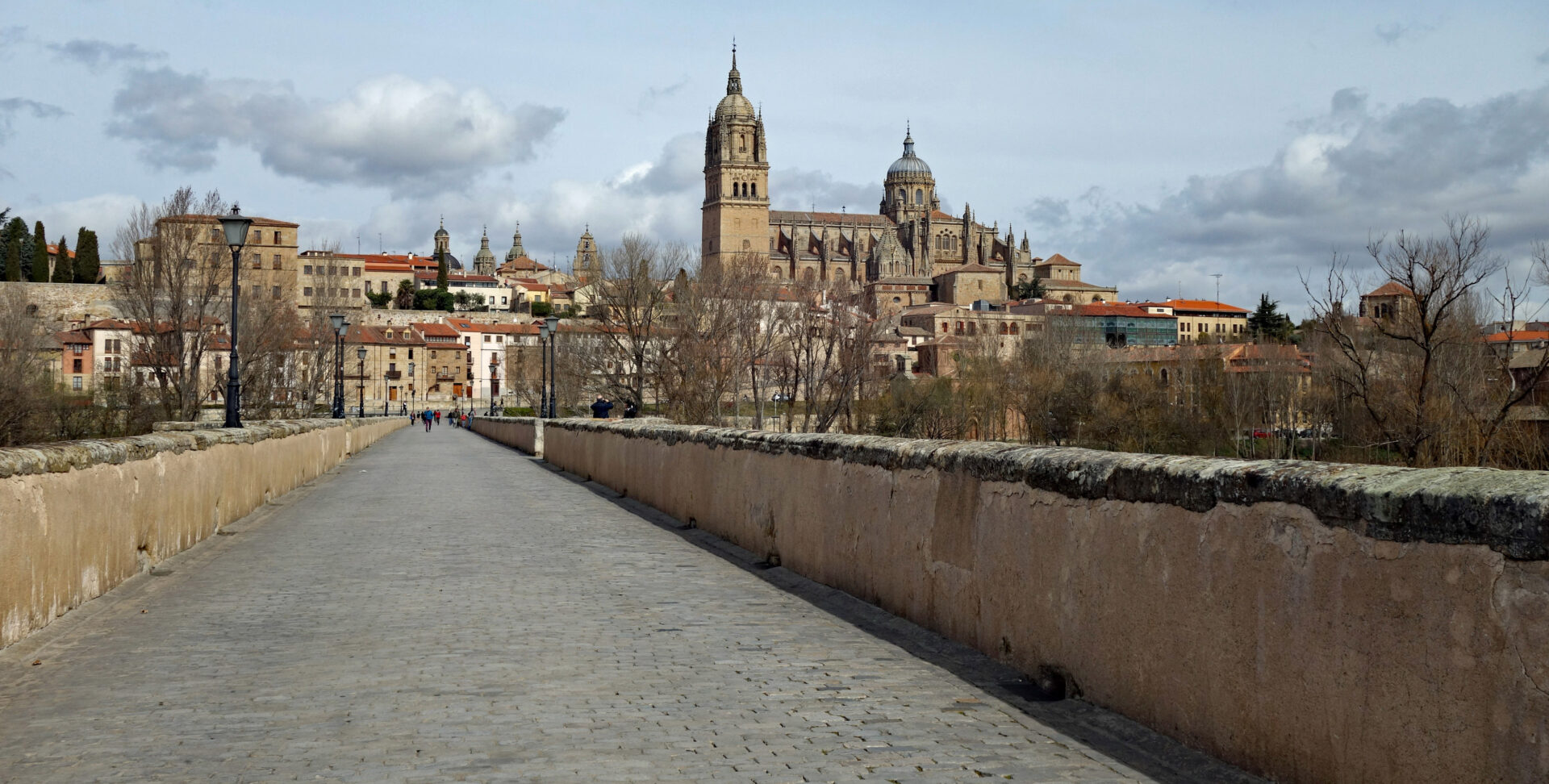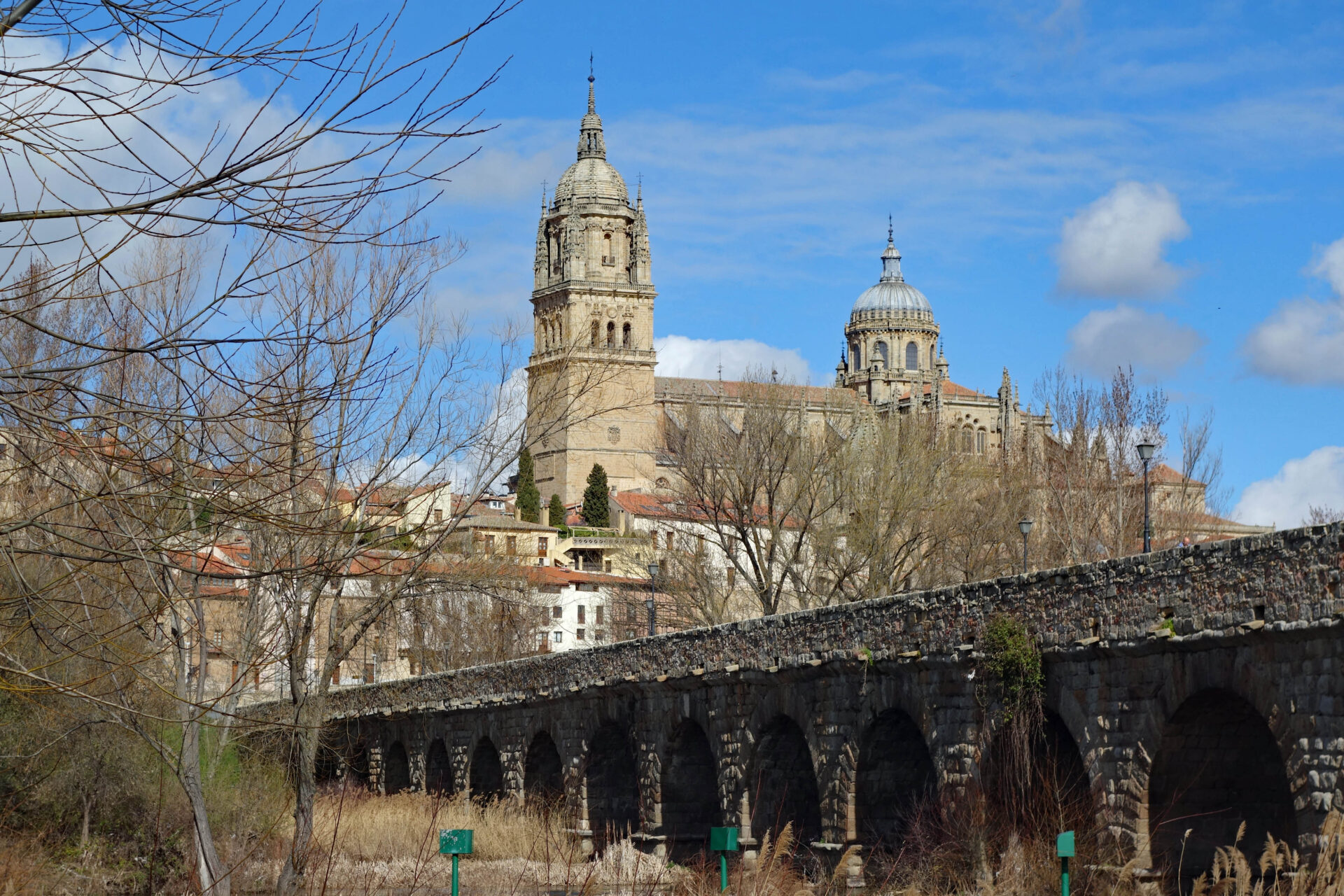 The city is home to many exquisite buildings. One of the most extraordinary is the Casa de las Conches. The facade is studded by more than 300 carved stone shells reminiscent of those worn by pilgrims on the Camino de Santiago.  The house was built in 1517 by Rodrigo Arias de Maldonado, a knight of the Order of Santiago de Compostela and also a professor in the University of Salamanca.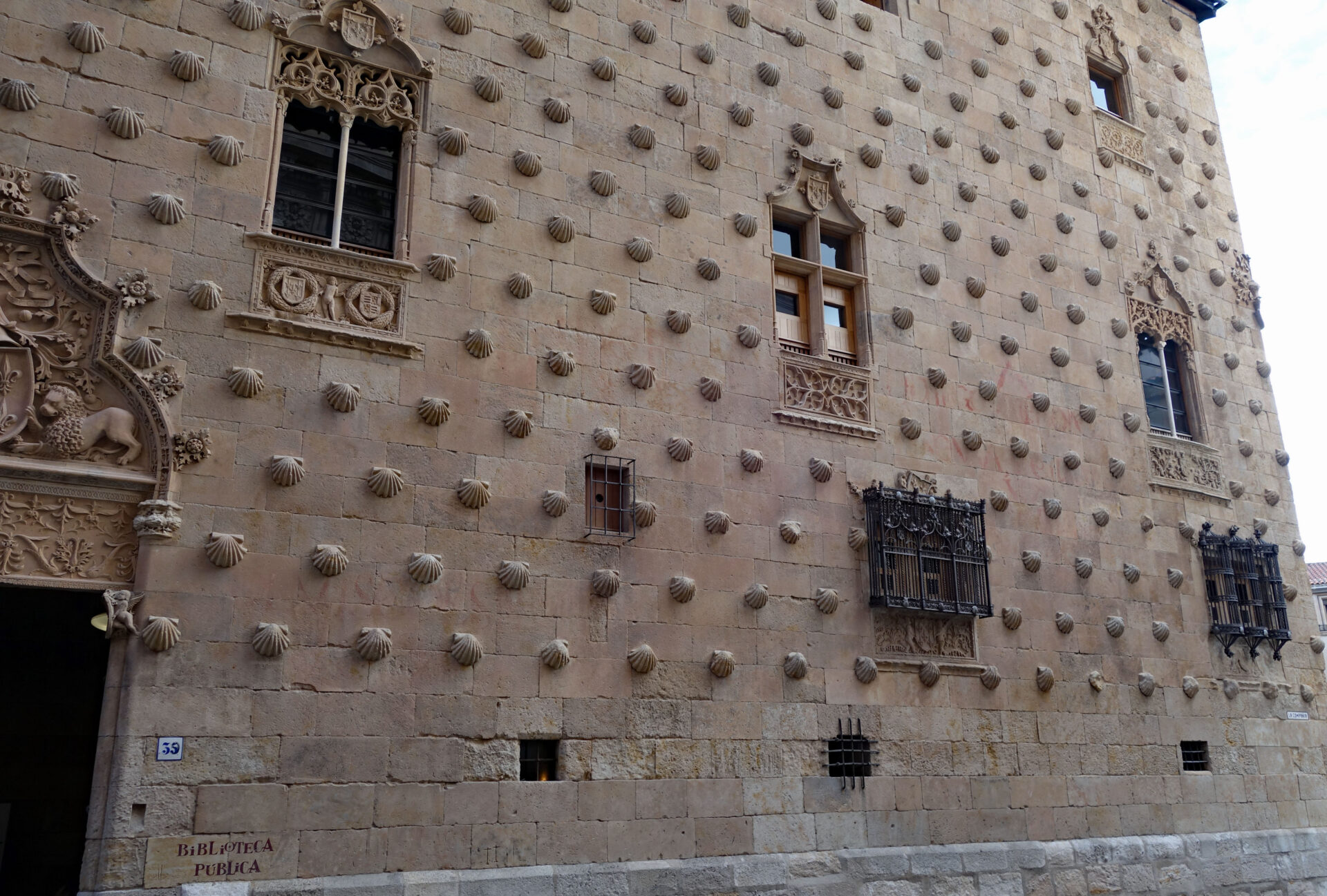 If you enjoy discovering hidden architectural gems, you will be as delighted as we were with the Cielo de Salamanca (Salamanca Sky fresco).  After much searching we found the entrance to an attractive courtyard leading into a modest chapel, which houses a beautiful painted ceiling depicting the astrological symbols and their celestial constellations. This exquisite ceiling was painted by Fernando Gallego between 1483 and 1486.  Photographs were not allowed to be taken so below is an image I found on the internet.  This link will take you to a site with interesting and detailed information on this fascinating frescoe.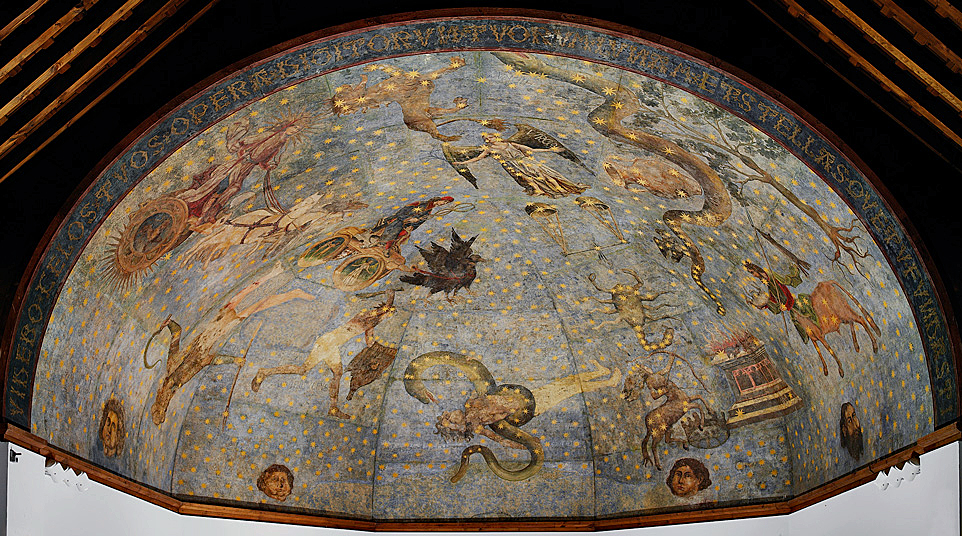 Casa Lis, an impressive modernist building partly made of stained glass, is yet another of the city's treasures.  It was originally a private palace and opened as a museum in 1995, now housing the Art Nouveau and the Art Deco Museum.  The intricate glass works and lighting make it one of the most stunning architectural constructions in Spain.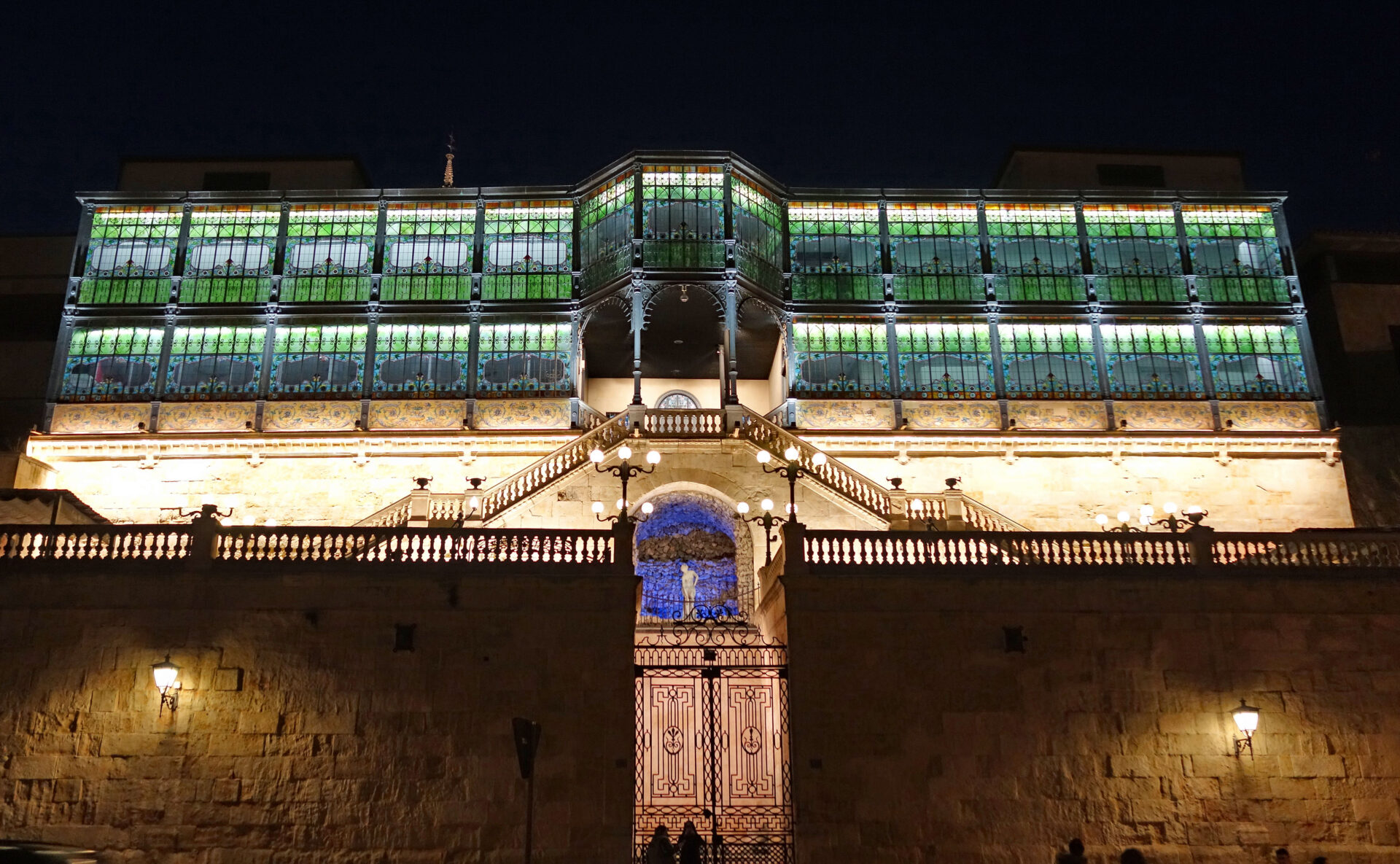 Some of you may wonder about our fascination with gargoyles.  Click here for a great article on the history and function of these Gothic sculptures adorning most structures, which have a practical architectural function – to drain water from the roofs of churches and cathedrals.  The lion below, I now know, it not really a gargoyle since he is a decoration and not a drain, but he is adorable anyway 🙂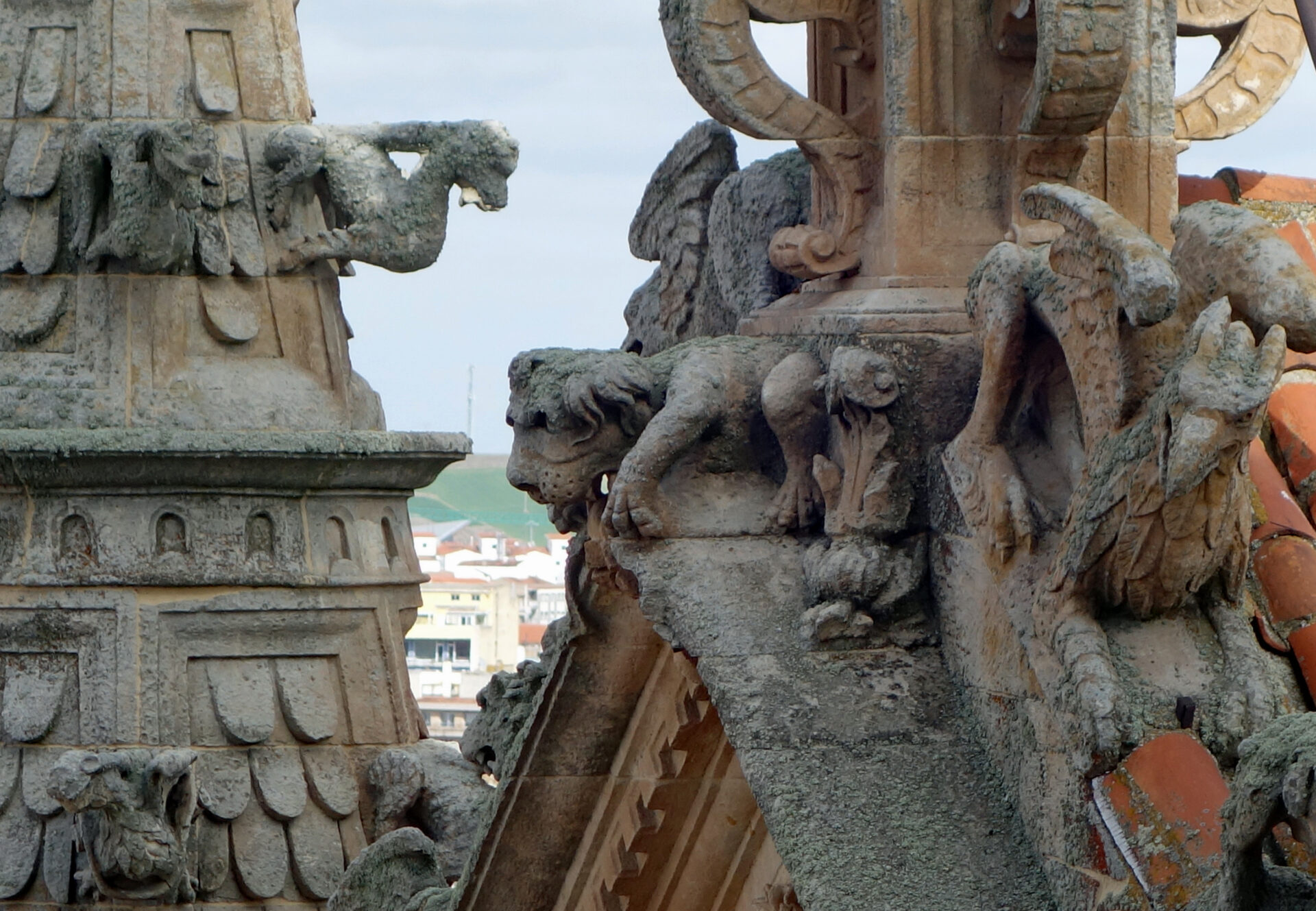 Salamanca has some "art" other than historical to admire.  We came upon these two lovelies during our wanderings about the old city, they are an interesting juxtaposition against the historic buildings surrounding them, and I just had to take pictures 🙂

We have enjoyed our week in Salamanca and without an over abundance of sites to see we had some quiet time and joined a local gym.  One day of rain kept us indoors, otherwise it was cool but nice enough to walk into town every day.  The city is much smaller than one's we have recently been visiting, and it was a nice change enjoying the slower pace and less crowded tourist attractions.  We both commented that Salamanca reminds us a little of Seville with it's large university student population.  Life gets busy now.  Next up Spain's largest city, Madrid…..