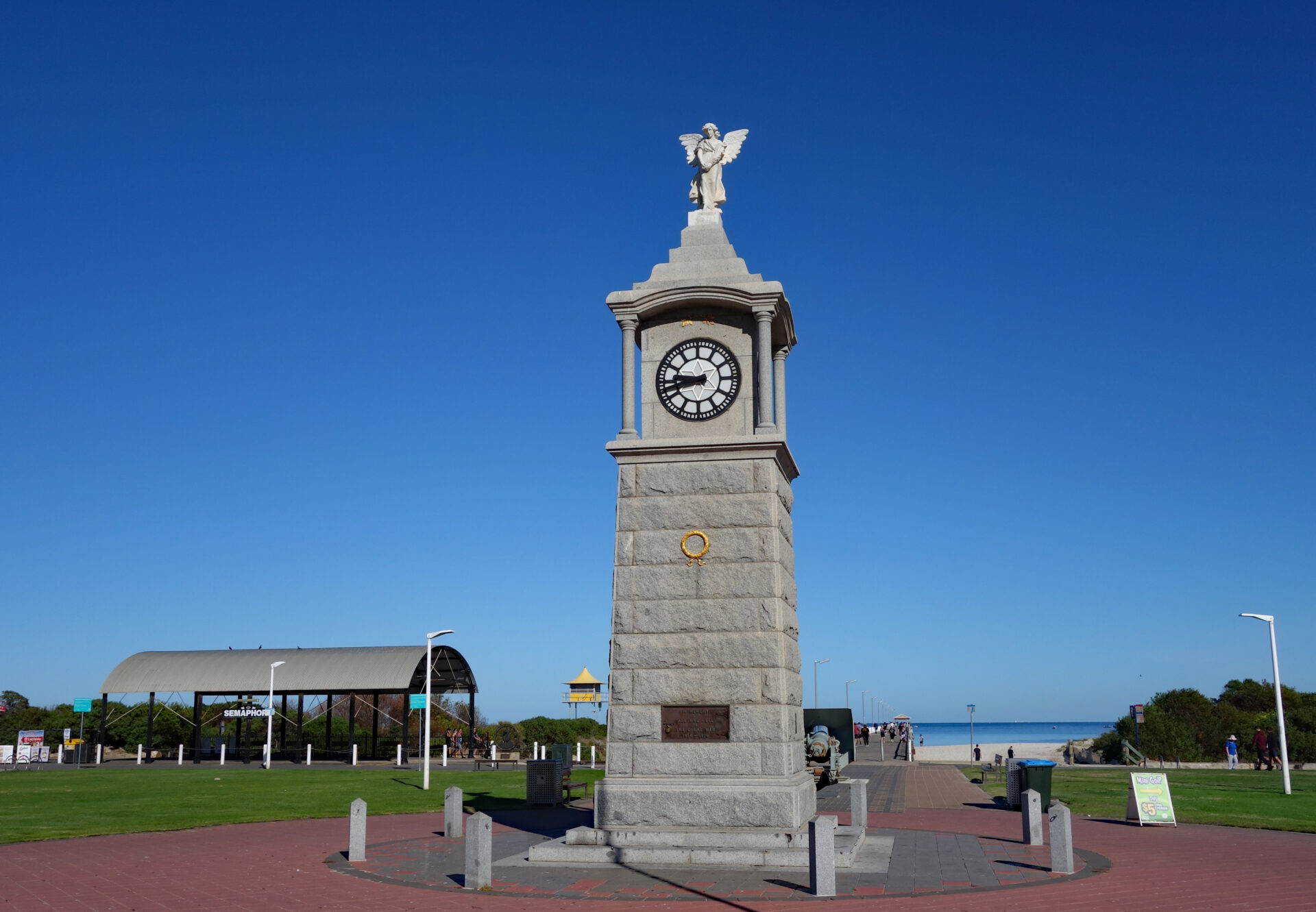 Our plan was to spend two weeks just outside Adelaide in the beach town of Semaphore after a laid back six weeks in Tasmania.  However, the coronavirus pandemic has stopped us, and everyone we know, in their tracks.  The end result for us, our time in Semaphore was extended, but not as long as we first thought.  As time passed all our plans ended up being canceled, but more on that later!
Arriving at the house in Semaphore late in the evening we had an interesting hiccup, noticing lights on in the house we thought 'this is odd' then we opened the door to find a family in the house!!!  I am not sure who was more shocked, them or us 😲 We promptly phoned our host who realized she had given us the wrong house number and key code, our house was next door.  Whew, glad that got sorted!!  Our first day was the usual routine of familiarizing ourselves with the neighborhood, a trip to the supermarket, and a walk along the gorgeous beach just steps from our house.  All of this after a fabulous blueberry pancake breakfast at a nearby cafe, something we never do, what a lovely way to start a Sunday 😊
Adelaide is the capital of the Australian state of South Australia with a population of approx 1.4 million and bursting with culture, events, and entertainment.  Located on the coast the city extends inland 20 km to the foothills of the Mount Lofty Ranges and is surrounded by world-famous wine regions. 🍷🍷 With a compact city center and long beaches nearby this city has a lot to offer.  We registered for a walking tour with Flamboyance Tours that was advertised as a 'tips-based walking tour', I imagine getting around the problems that we have heard free tour operators run into regarding business licensing.  Our lovely guide Katina entertained us for 2 hours as she escorted a dozen of us around the CBD of Adelaide.  With many Australian historic sites, 'old' is a relative term since they only date back to the 1800s.  We enjoyed the tour and came away with a history of the city and recommendations for other highlights to visit throughout the city and surrounding area.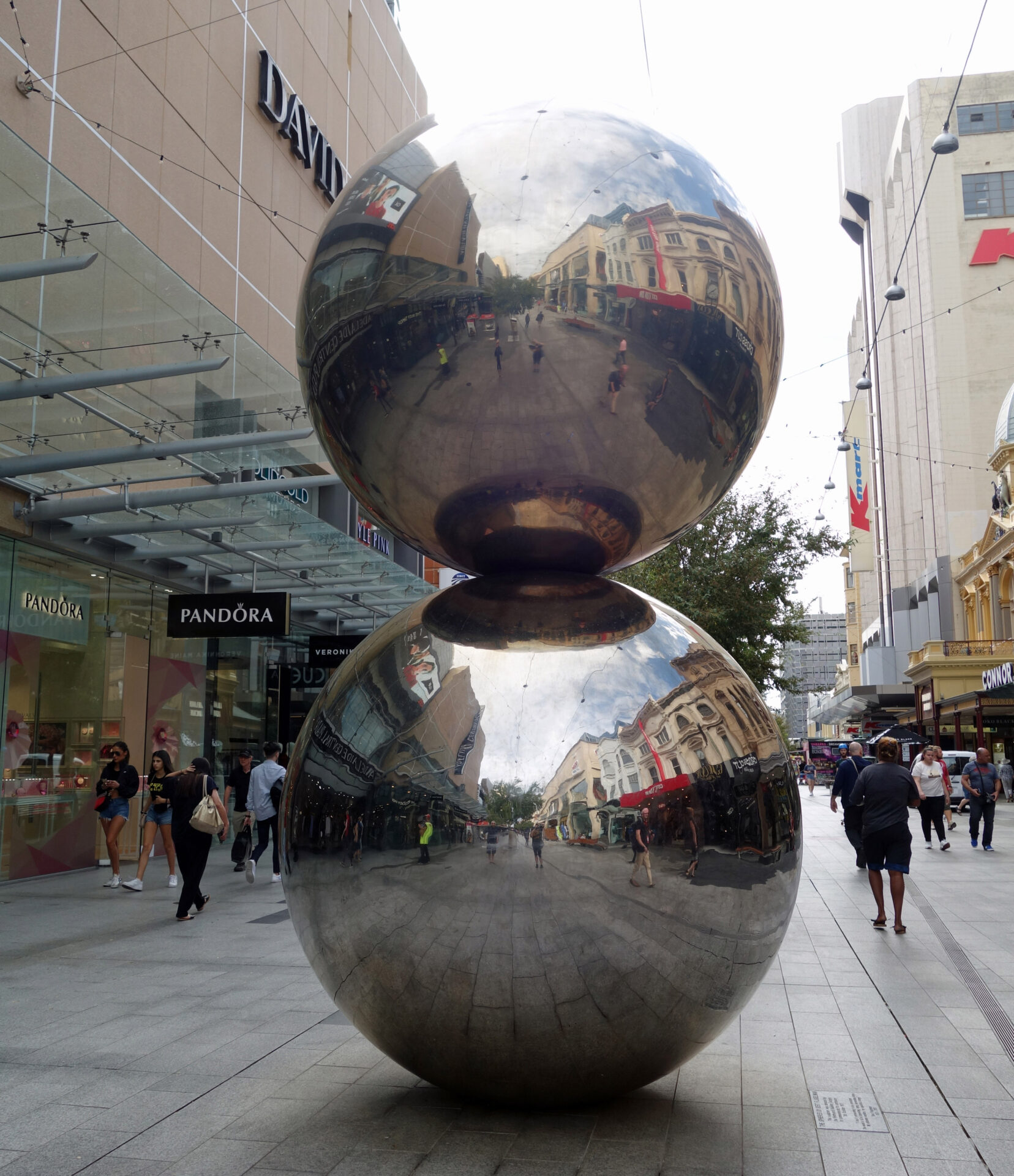 The walking tour began at the "Mall's Balls" an iconic sculpture in Adelaide that locals use as a meeting spot and reference point in the city center.
We toured a variety of significant buildings, admired some street art, and concluded our tour at the foodie hub of Adelaide, the Central Market.  If you know me, you know I love a good market!!  We would shop at this market a few times during our stay and recommend a visit if you are in Adelaide.
So many wineries, so little time!!!
Adelaide is surrounded by three major wine regions, Adelaide Hills, McLaren Vale and Barossa.  McLaren Vale is an hour south of the city and home to over 75 cellar doors (tasting rooms) and 160 vineyards.  As a wine lover, I could spend a significant amount of time visiting all the cellar doors learning about the production of each vineyard.  On our way to McLaren Vale, we stopped in the small village of Clarendon to admire their heritage buildings.  This quaint township is tucked between the hills and the vines north of McLaren Vale.  We popped into the former church building which is now the local museum and despite not being open the staff welcomed us to have a look around at the artifacts on display.  Of course, they being friendly Aussies, we had a lovely chat and as happens so many times, found a connection.  One lady's granddaughter is attending university in our hometown of Calgary.  Small world 😊
One more stop on the way to our wine tastings was at the d'Arenberg Cube, a Rubik's Cube looking building sitting among the vineyards of the d'Arenberg Winery.  Opened in 2017 the building contains public and private tasting rooms, a restaurant, bar and a museum.  At the time of our visit the winery was featuring an exhibition of Salvador Dali works.  We did not have the time to tour the interior of the cube and the exhibition however it looked very interesting and is worth a visit if you are in McLaren Vale.
Our first cellar door was the beautiful Chapel Hill Winery.  Yes, there is a 150 year old chapel here, and it's on a hill overlooking acres upon acres of vineyards.  Costing AUD $5 (USD $3) their tasting includes 8 different wines beginning with 2 whites, a rose, 4 reds and finishing with a sweet muscat.  Simply amazing wines!!!  It was hard but we limited our purchase to two bottles, it would be so easy to buy more.
We popped into the Wirra Wirra Winery, don't you just love that name, for a snack before proceeding to our next tasting, at Hugh Hamilton Wines.  The logo for this winery is a black sheep and according to our tasting host, Hugh was the black sheep of the family, breaking away from the family wine business to start his own vineyard.  The Hamilton family has been producing wine here for over 180 years and Hugh wanted to create his own unique wines.  Costing AUD $10 (USD $6) the tasting includes 5 wines of your choice, giving us the freedom to focus heavily on the reds.  Their cellar door is a magnificent round building with 270-degree views of the vineyards.  This is the first time we have been at a vineyard during harvest so we were delighted to watch the machine "shaking" the grapes off the vines.  It was explained to us that this gentler process eliminates having stems and stalks mixed in with the grapes.  In keeping with the 'black sheep of the family' theme the wines here have fun-loving names, such as The Drama Queen and The Floozie 😊  Limiting ourselves once again to our two favorites, we purchased The Rascal Shiraz (named after Hugh) and from the Dark Arts line, the Black Ops Shiraz Saperavi.  Once again, it was a fabulously fun and informative wine tasting.
Following two wine tastings, we thought it best to halt the alcohol consumption and go for a beach walk so we made our way to Ochre Point for some gorgeous cliff-top views.  There is a steep walkway down to Maslin Beach where we had a refreshing walk by the sea, careful not to reach the far end of the beach though where the 'clothing optional' area is 🙈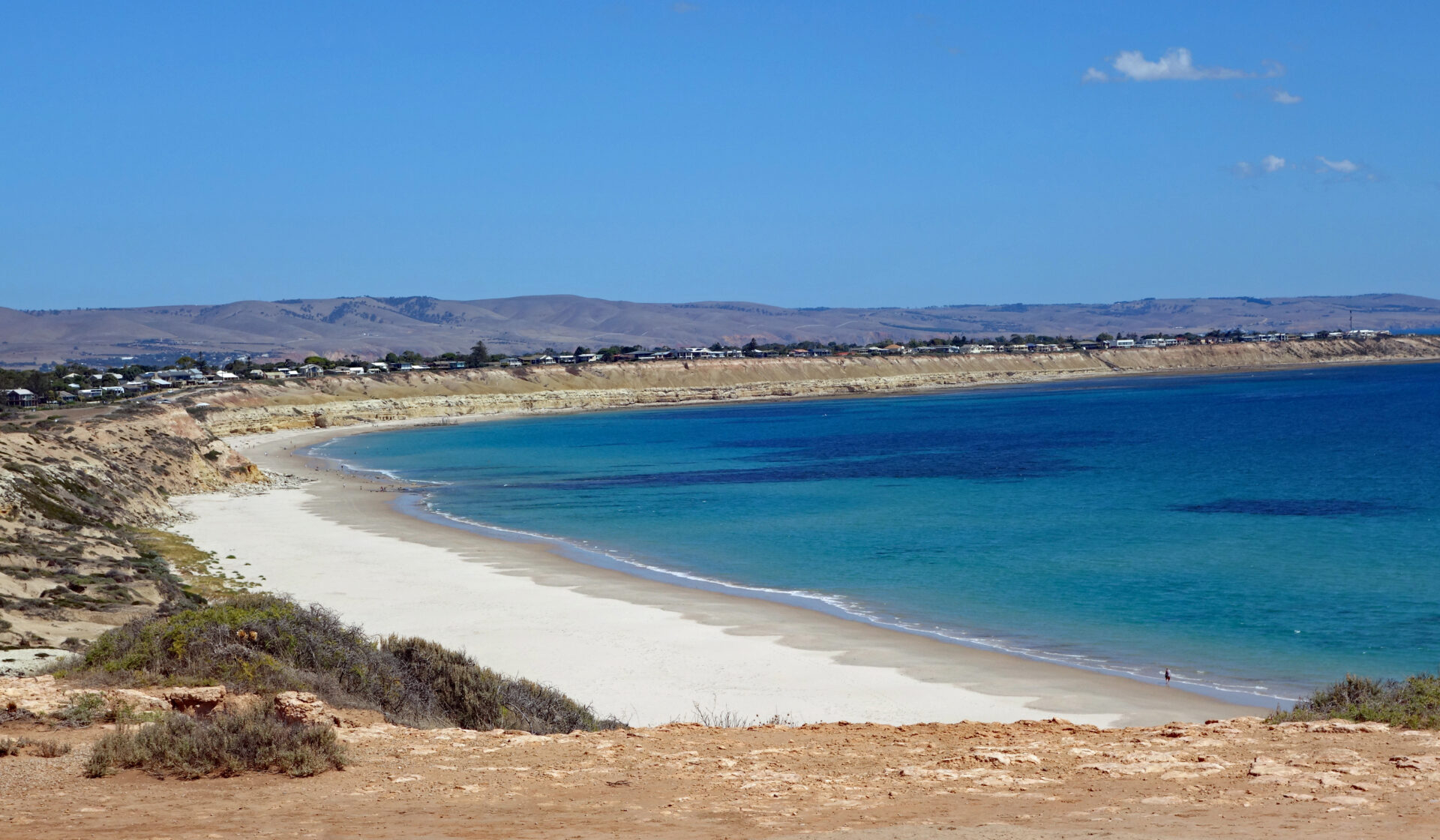 The Port Adelaide Wonderwalls Festival is a 3 day street art and graffiti festival occurring every March.  We picked up a printed guide and spent a couple of hours searching out some of the murals as well as ones from prior years.  This form of art has become tremendously popular around the world.
The Adelaide Zoo is Australia's second-oldest zoo, after Melbourne Zoo, opening in 1883 with over 3,000 animals on site.  The key attraction for us was the two Giant Pandas, Wang Wang and Funi, on loan from China until 2024 and the only Pandas in Australia.  We called the zoo first to confirm they were still open for business, due to COVID-19 closures starting to happen.  Tickets for the zoo cost AUD $37 (USD $22) each, a good price we thought for an afternoon with the animals.  The zoo was extremely quiet, many people are staying home these days.  We spent the majority of our 4 hours at the zoo enjoying the Pandas, they are so cuddly looking 🐼🐼  The zoo is operated on a non-profit basis with one or two staff members at all the popular exhibits available to answer questions, we learned a lot about the Pandas as we wandered around their enclosure.  Our other favorites were the Sumatran Tiger, Mandrill Monkeys, and a 65-year-old Hippo – he walked like he was 65 😂😂
Besides the above day trips the only other activity we got in was our scuba dive at Second Valley pier, which I wrote about in a separate post.  Every day more restrictions and closures are happening leaving few places open to visitors.  We spent more time at home and enjoyed daily walks along the beachfront promenade all the while trying to keep up to date with the latest news about the pandemic.  Sadly our time in Adelaide was abruptly cut short forcing us to leave, with many places that interested us, not visited.  We hope to make it back here in the future, picking up where we left off…
Updated Travel Situation
The increasing global shutdown of travel and border closures forced us to cancel all our travel plans.  We had booked a trip to Bali and Singapore on March 22, leaving Australia before our 90-day visa expired.  Upon our return to Australia, we would have been granted another 90-day visa.  The Australian border was closed to visitor arrivals on March 20 with flights out of the country decreasing daily.  We were in a small town with few people, the grocery stores were stocked and we were confident it was a safe place to hunker down for a while.  The only option for us to legally remain in Australia was to apply for a visa extension which we submitted on March 20.  Shockingly the cost of this application is AUS $385 (USD $225) each  😥😥  We hope the extension will be approved allowing us to stay until we research flight options to Canada.  Travel to Canada is becoming difficult and of no benefit to us having no home to return to, plus we face a mandatory 14-day quarantine upon arrival.  Although we planned to spend a few weeks in Adelaide, our time was cut short by the sudden closing of inter-state borders forcing us to leave South Australia, entering the state of Queensland prior to the border closure and quarantine rules implemented.  As of March 25, we are in the state of Queensland monitoring the situation and will react as necessary to the ever-changing restrictions.  These are sad and difficult times for everyone around the world, we count our blessings that we are still healthy and safe, and hope you are too. ❤