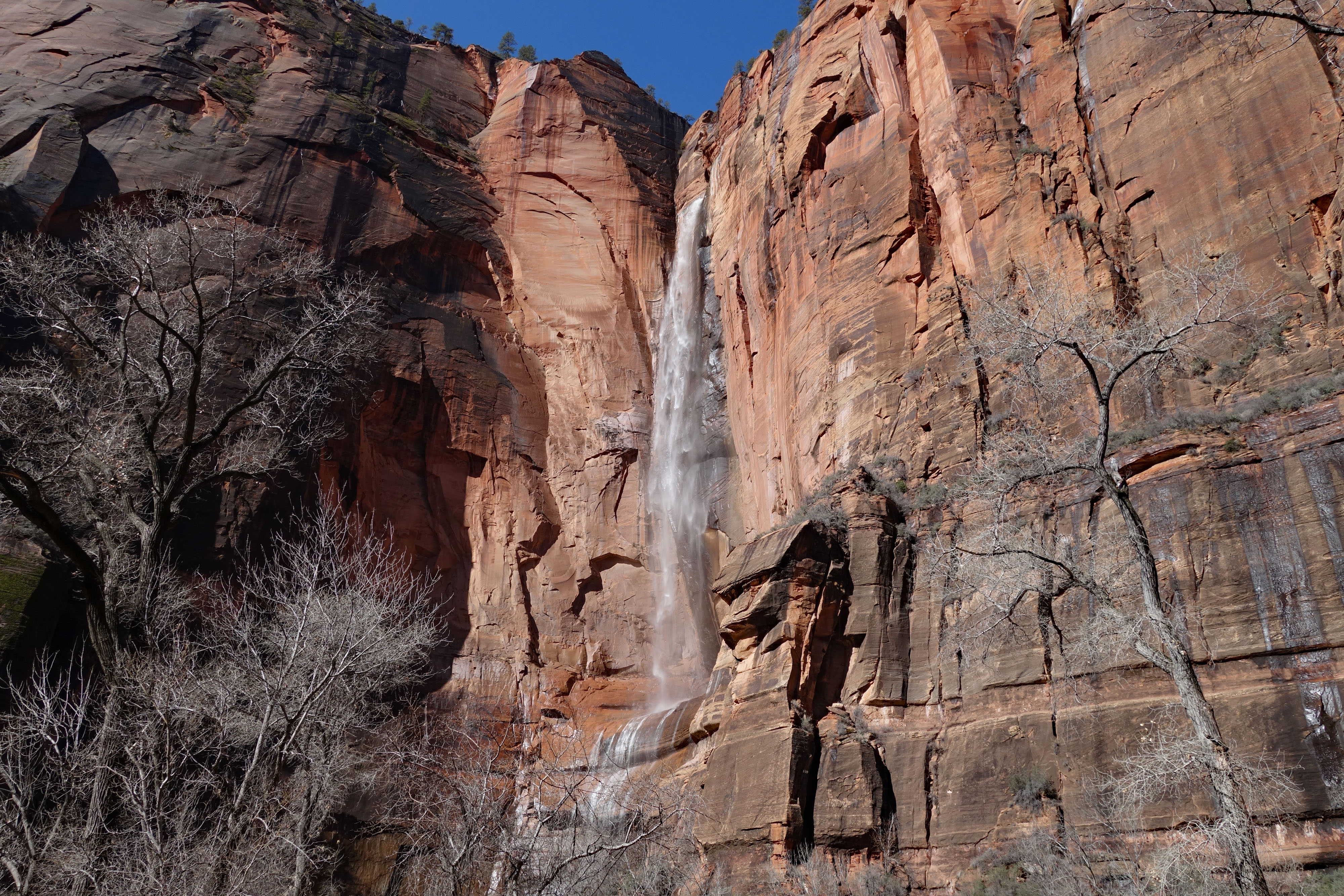 St. George lies in the southwestern corner of Utah on the Arizona border with a population of around 100,000.  When I mentioned this destination to friends back in Calgary they told me they had run the St. George marathon quite a few times and it was one of their favorites.  The weather here is significantly warmer than most of Utah making it a popular destination for many snowbirds.  We quickly learned Utah has the most restrictive rules regarding alcohol purchases that we have ever come across.  For non US citizens you must show your passport to buy alcohol at state run liquor stores as well as in restaurants  😳  Sheeesssh, who carries their passport all the time!!
The drive from Kanab, Utah to St. George, Utah is typically one hour taking a southerly route down through Arizona, however we had a few hours to kill before we could check in to our next Airbnb so we took the scenic route.  This took us north of Kanab to Highway 9 which passes through Zion National Park then heads back south into St. George.  We had planned to visit Zion so we thought taking a drive through would give us a good idea of where we should come back to.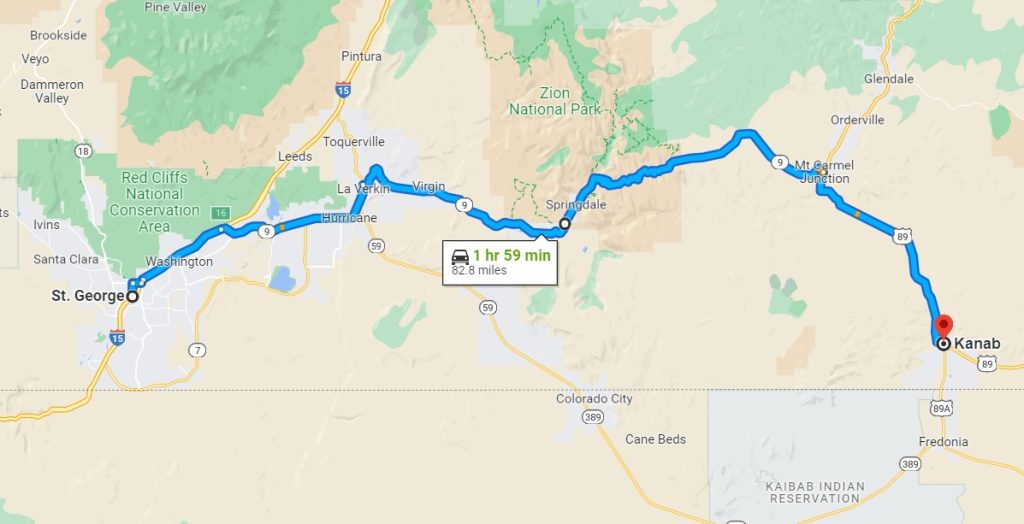 Upon entering Zion the park employee was happy to take our USD $35 Bryce Canyon pass and put the cost towards a USD $80 annual National Park Pass which was great.  Just to drive through Zion on our way to St. George would have cost us another USD $35 so getting the annual pass will work out well for our time here in Utah.
The drive through Zion National Park was beautiful and we stopped at a few of the scenic viewpoints.  The first one we stopped at was Checkerboard Mountain, so named for it's checkerboard appearance.  The horizontal lines are cross-bedding of ancient sand dunes and the vertical lines are cracking caused by expansion and contraction of the sandstone during the winter.
As we continued our journey deeper into Zion the mountains became higher and the canyons deeper, it's a pretty drive, and a very busy drive which surprised us being early March.  Almost all the small roadside pullouts were full of parked cars, I can only assume the owners were off hiking.
When we arrived in St. George it was raining, so we took a couple of rest days at home to recharge and finish up some future bookings for Europe.  Our Airbnb is north of St. George in a rural setting with large homes set on acreages with lots of horses and cattle in the neighborhood.  There are quite a few golf courses nearby but when we looked at booking a tee time they were all pretty well booked, so we did not end up playing golf.  I guess we did not plan far enough ahead, oh well, there are numerous hiking trails nearby to keep us entertained.
3 minutes north of our house is the Snow Canyon Scenic Overlook, which required no walking to admire the beautiful views of Snow Canyon.  Below the overlook is Snow Canyon State Park where you can set off on a variety of hikes into the dunes and cliffs.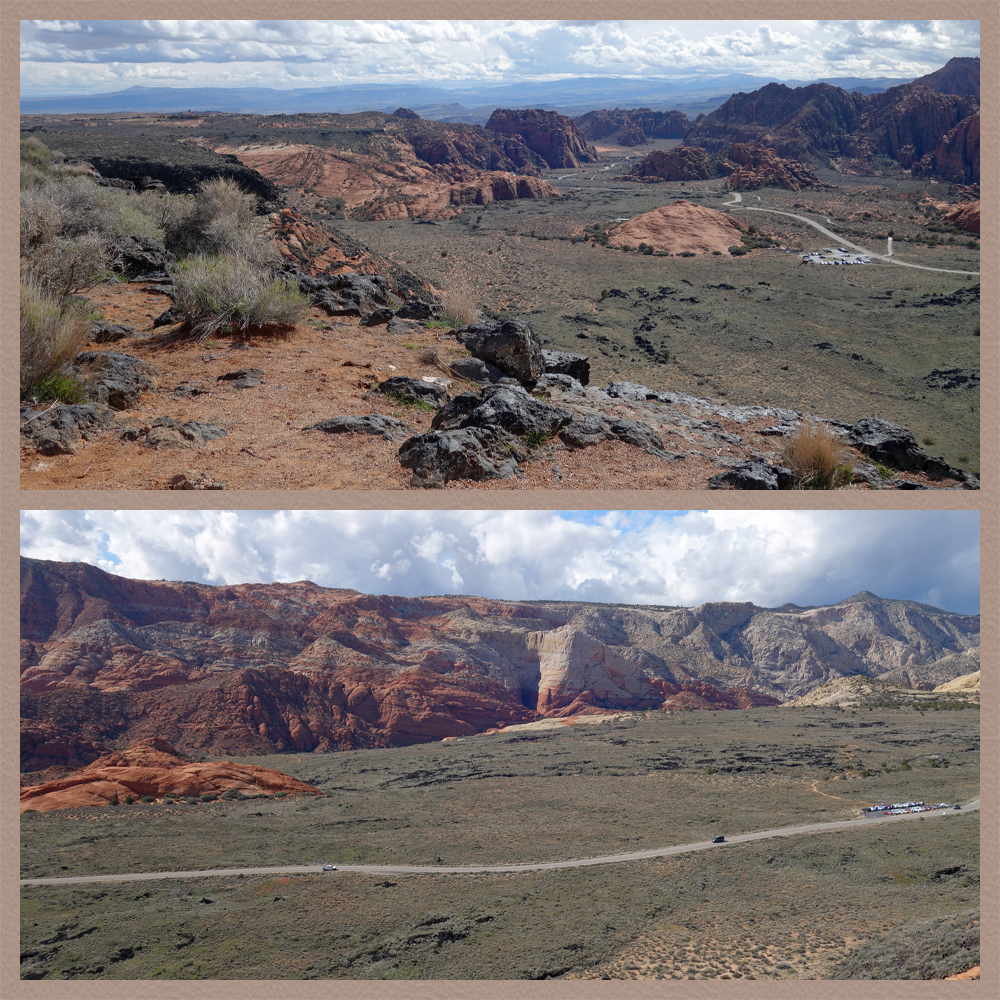 10 minutes north of our house is The Cinder Cone trail, a 1.7 miles (2.7 km out) and back, steep hike up to the top of one of the ancient volcanos in Southern Utah.  A cinder cone is a small volcano, usually less than 985 ft (300 m) tall.  They are called cinder cones, because the volcano emits cinders, as opposed to fluid lava, and they are shaped like cones.  The trail has 500 ft (152 m) of elevation and when reaching the top you are rewarded with beautiful views of Snow Canyon and the Dammeron Valley.  The steep bit at the top is made up of  loose volcanic rocks, not too bad going up, but can be fairly treacherous going down.
The Chuckwalla Trailhead just outside St George leads to a variety of trails amongst the red rocks so we chose an out and back trail headed towards Turtle Hill.  The nice thing about an out and back is we can turn around whenever we are done.  It was a relatively easy 3.1 miles (5 km) hike with not much elevation along a red sand path.  We got this hike done in the morning before more rain arrived.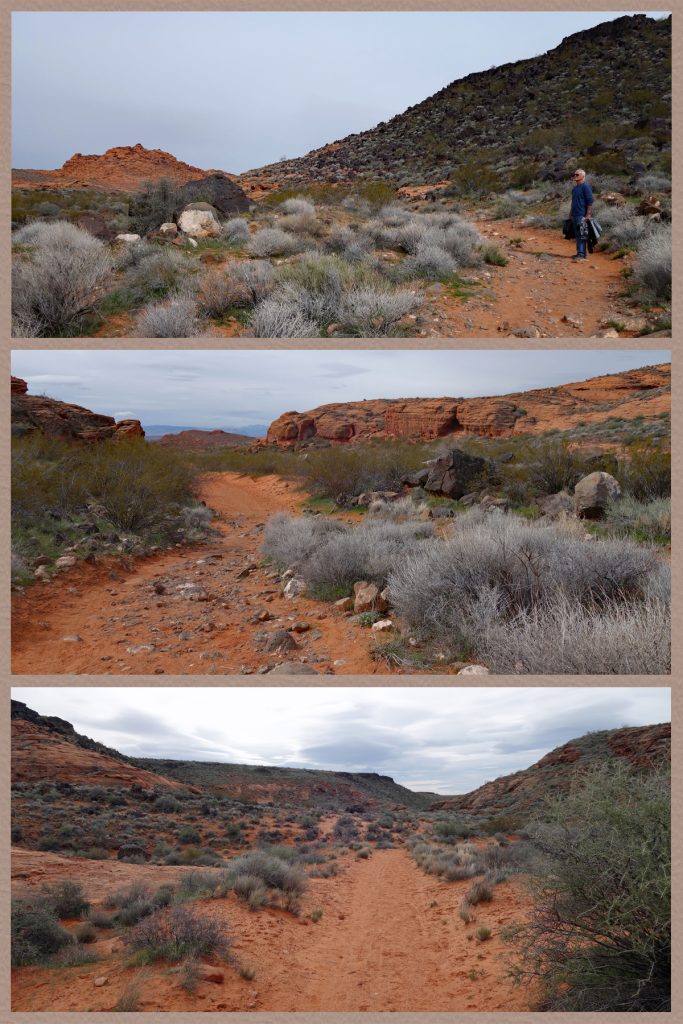 During our 9 days in St George it rained 5 of those days, we even had hail one day, which really curtailed our explorations.  The weather reminded me of a Dr Seuss quote  "The sun did not shine. It was too wet to play. So we sat in the house. All that cold, cold wet day."   Even our hosts commented that this is the most rain they have seen in their 2.5 years here!!  Our Airbnb was exceptionally comfortable so we didn't mind spending time at home, sometimes it's not so bad being forced to relax.
After 2 straight days of rain, our final couple of days in St George were clear blue sky days so we quickly planned a day trip to Zion National Park.  Our first foray into the park was strictly a drive through from east to west, but this time we arrived at the Visitor Center by 9:30am to board one of the many shuttle buses up the Zion Canyon Scenic Drive.  It's the only way you can get there and it's included with your park pass.  After being a bit underwhelmed during our drive through the park (I think Bryce Canyon spoiled us) the Zion Canyon was jaw dropping in it's beauty.  Now I see why millions of visitors a year make their way here and why the shuttle buses are necessary.
Zion Canyon is 15 miles (24 km) long and up to 2,640 ft (800 m) deep, it has been created over millions of years by the Virgin River slicing through the soft layers of rock. The canyon walls are reddish and tan colored Navajo Sandstone, soft enough to be easily eroded by water leaving behind sheer cliffs.  The paved road into the canyon from the visitor center is 6 miles (9.7 km) long, ending at the Temple of Sinawava, the final stop on the shuttle bus route.  From here the canyon becomes even narrower and a hiking trail continues deeper in the canyon to the mouth of The Narrows, a gorge only 20 ft (6 m) wide and up to 2,000 ft (610 m) tall.  From this point the trail is actually in the river but after 2 days of torrential rain, hiking into the narrows was closed because of the high volume of water.  The hike from the shuttle bus stop to the start of the narrows was 2.2 miles (3.5 km) round trip and the further in the canyon we got, the darker and cooler it became.  It was an amazing walk!!
After our walk into the canyon we returned to the shuttle stop and boarded the bus back down the canyon.  Our bus driver was saying his favorite place in the entire canyon was stop #8 Big Bend.  We kinda felt we should disembark for the 5 minutes between shuttles to admire the views, and he was right, they were pretty awesome.
Boarding the bus once again we rode further out of the canyon getting off at stop #6 The Grotto.  From here we crossed the river to hike 2.7 miles (4.35 km) one way finishing at shuttle stop #5 Zion Lodge.  The hike started on the Kayenta Trail climbing up the muddy cliffside which then turned into a trail meandering up and down until it splits into upper and lower Emerald Pools trails.  The upper trail is steeper and an out and back so we stayed on the trail heading to the lower pool, which involved a bit of clambering down steep rock staircases and around boulders.  After 2 days of rain the waterfalls were magnificent, and a lot of folks around us commented they had not seen this much water in a long time.  I guess our timing was pretty awesome 😁  Once we passed under the waterfalls we joined the Lower Emerald Pool trail which took us the rest of the way to Zion Lodge.  From here we caught the shuttle bus back down to the visitor center, completing our day in Zion Canyon.  What an amazing day it turned out to be!!!
We enjoyed our visit to St. George but the weather continued to conspire against us with an Atmospheric River in the forecast and severe snowfall warnings issued for our planned route to Calgary on March 21st.  After much research into weather forecasts and seeing that the Interstate 15 was closed due to heavy snowfall on March 15th we cancelled our 3 day visit to Moab to make a run north in between snowstorms.  This is reminiscent of our mad dash to Calgary in late November in between major snowstorms!!  We don't seem to be having much luck with winter weather this year requiring adjustments to our travel plans.
So, off to Calgary we go until the end of April…