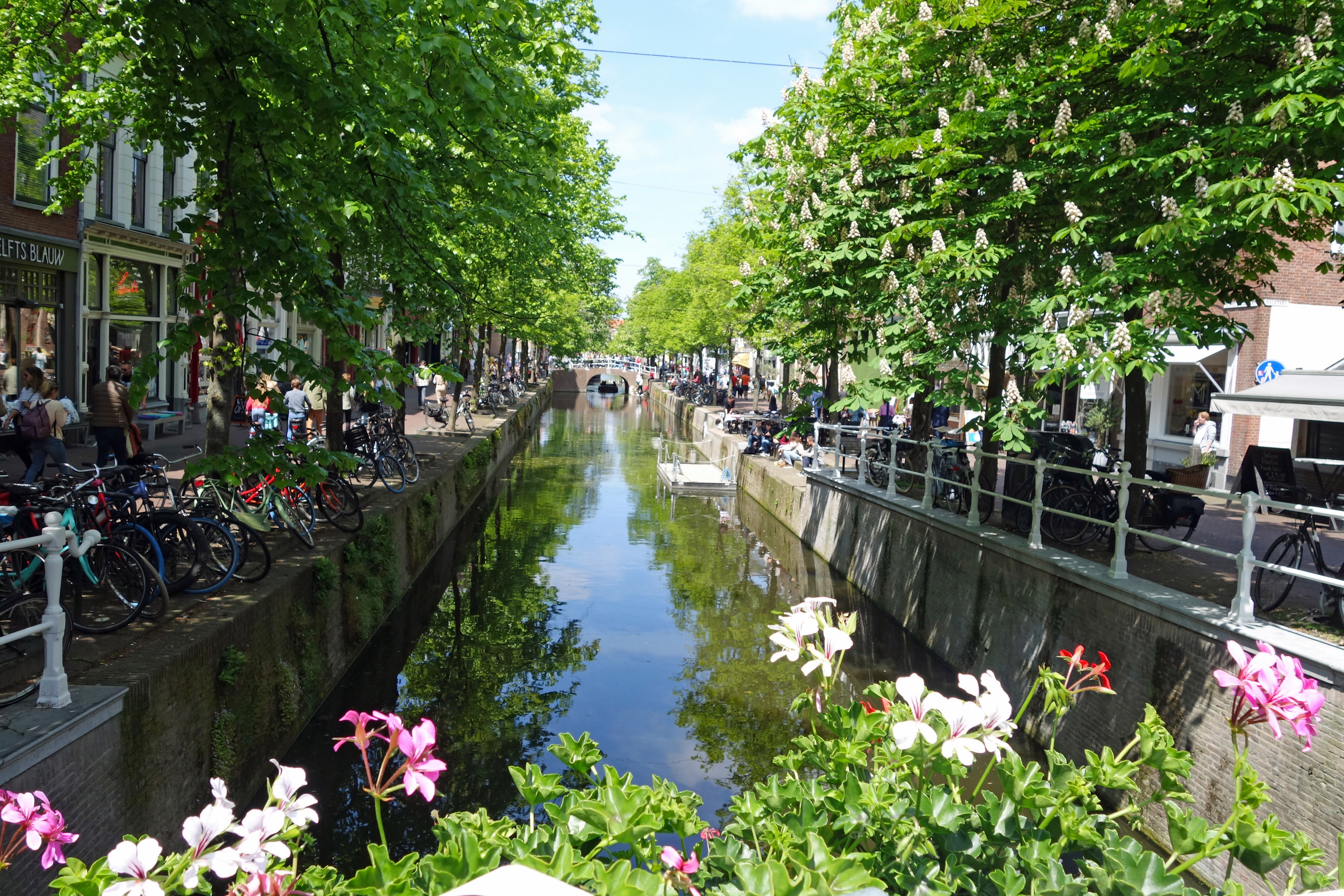 During our second week in the Netherlands we continued exploring a few other towns that were of interest to us, plus we made one more trip into Amsterdam for a final big city outing.
AALSMEER
Our week started off with more flowers, this time it was a visit to the Royal FloraHolland auction house in Aalsmeer.  This organization is the largest flower auction in the world bringing together suppliers and buyers from around the globe.  More than likely any flowers you have ever bought have passed through this distribution center.  This location alone is the 4th largest building by footprint in the world, the size of 250 football fields 😲 and 46 million flowers per day are sold here.  Annual sales are 5.6 billion Euros, roughly 22 million Euros per day!  I read somewhere that the warehouse is "organized chaos" and that's exactly what it looked like.  It was amazing watching the tractor drivers navigate efficiently around each other and the flower trolleys.  Also impressive is how smoothly the entire place ran moving 46 million flowers a day.  Some of the movement is automated as trolleys from the far corners of the building are moved along a track into the distribution areas.  Each trolley has a chip on it and contains the product from one vendor, it is picked by a tractor driver who scans the chip and receives audio instructions via a headset where to deliver those particular flowers.  The flowers are then transferred item by item to trolleys assigned to each buyer.  The trolleys for one buyer are then organized into a "train" which is then taken to the loading docks.  From the time a buyer orders their flowers to arrival in their warehouse is 90 minutes!!  Some of this efficiency is achieved by the "Aalsmeer Shuttle" a 15 km long overhead runway system that can move 2600 trolleys per hour to the far reaches of the complex.  The auction runs from 6 am until 11 am and any unsold flowers are turned into compost, but less than .5% annually are not sold.  Too bad, I was hoping to buy some flowers at the end of our tour 😁 The warehouse is then cleaned and from 4 pm to 4 am the new shipments of flowers are brought in and prepared for the next day's auction.  This place runs 365 days a year!!  Tickets cost 10.50 Euros ($11.40 USD) each and you are free to walk the 1 km long viewing catwalk at your own pace, we enjoyed it so much we went around a second time 💐💐
SHEVENINGEN AND WASSENAARSESLAG BEACHES
OK, these beach names are a mouthful and we did not even try to pronounce them 😂  Although the Netherlands is not world famous for it's beaches we love being near the water so made a quick trip to the seaside.  Our first stop was Sheveningen Beach, just north of The Haag.  It's your typical highly developed beach with endless cafes and bars spilling onto the sand, plus a large pier with carnival style attractions.  Parking was expensive so we had a quick stroll along the boardwalk before driving further north to Wassenaarseslag Beach.  There are only 6 beach bars here and no big pier so we stayed for a drink watching a couple of brave kitesurfers in the chilly North Sea waters.
AMSTERDAM
We were not enthralled with Amsterdam last week but really felt we should give it one more try.  Perhaps we are just losing interest in over-touristed big cities and feeling museum and churched out?  I mean, at what point do all the churches in Europe start to look the same, and how many museums can one person go to!!  In any event, we drove to the P&R Arena parking lot in Amsterdam once again and took the metro to the central train station.  Our first point of interest was the Anne Frank House, where Anne and her family hid from the Nazis for more than 2 years during WWII.  The house has been turned into a museum and tickets were completely sold out for the days we were in Amsterdam so the best we could do was walk past the building.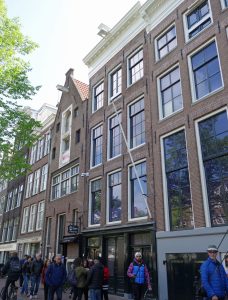 Next door to the Anne Frank house is Westerkerk, the biggest church in Amsterdam.  The Westerkerk was built from 1619 to 1631 and is the most important Protestant church in the city.  Sadly, the beautiful bell tower is under restoration and we could neither climb it nor see it for all the scaffolding.  We did pop into the church to take a look at the memorial shield marking Rembrandt's place of burial.  When Rembrandt died in 1669 he was so poor, that he was buried in an unmarked church grave, so the exact location of his grave remains unknown.  Dutch Protestant churches are typically quite modest inside although the organ is an impressive one.  Westerkerk is free to visit and donations are appreciated but when the tower is open, there is a fee to climb to the top.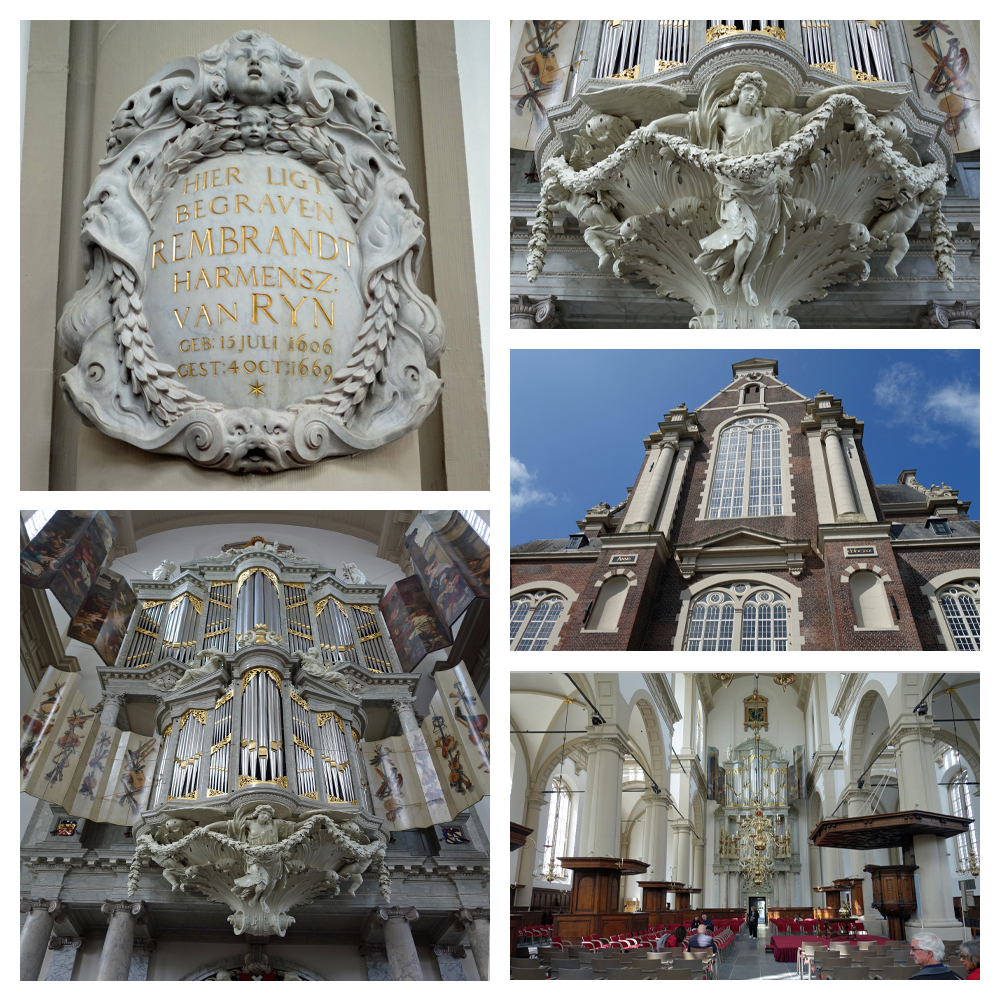 Leaving Westerkerk I was feeling a little low on  my sweets consumption so we popped into a pancake house for a takeaway order of my favorite Dutch treat, poffertjes 😋 Energy restored, we headed into the Jordaan District for a little wander about.  The Jordaan District was built in the 17th century and is known for it's beautiful houses, nice restaurants and interesting shops.  The canals here are lovely and it's not quite as busy as some other parts of Amsterdam so we enjoyed a peaceful walk in this area.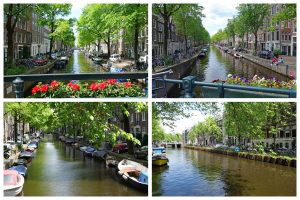 Working our way back towards Dam Square we stopped for pizza at Sebastian Restaurant, a small but authentic Italian restaurant.  After lunch we had one last wander around the Red Light district before making our way to the train station and onwards home.  We enjoyed our two days in Amsterdam despite our first impression, the canals are prettier than Venice and more viewable because you can walk along them.  It's ridiculously busy here, like most major European cities, but there are enough sights for it to be an enjoyable place to visit.  We did not get to the Rijksmuseum because there is a special exhibition of Vermeer paintings and it's way busier than usual, so we took a pass this time.  Here are a few final photos of our walk around Amsterdam.
DELFT
Delft is famous for it's signature blue ceramic pottery as well as being the birthplace of the 17th century Dutch painter Johannes Vermeer (the guy who's paintings are in Amsterdam right now)  Delft has been referred to as a miniature Amsterdam, unspoiled by mass tourism, but it's still pretty busy here.  The town center is compact and most of the historic sites are within walking distance.  Before going into the center of town we visited the Royal Delft Museum to learn more about this distinctive blue and white pottery.  Royal Delft has been creating their iconic pottery since 1653 and is the last remaining  factory from the 17th century when there were 33 factories in operation around here.  The tour takes you through a history of how the pottery has been made over the years and includes a couple of movies, a museum showcasing historic and modern pieces, a walk through the factory where you can see the step by step process and an item being hand painted.  What amazing talent to be able to hand paint those intricate details!!  If you want to buy a mass produced Blow Away Vase it costs 800 Euros ($867 USD), but a hand painted one will set you back 2,500 Euros ($2,710 USD) 😲 One of the most impressive items on display in the museum is the 12 x 14 ft 480 tile reproduction of Rembrandt's most iconic painting  "The Night Watch"  This phenomenal creation was painted by two master painters of the Royal Delft company.  Tickets for the museum cost 15 Euros ($16.25 USD) each and includes an audio guide.  Naturally at the end of the tour you are routed through the beautiful gift shop, it was hard to get buy without purchasing something small to tuck in our suitcase.
From the museum we carried on into the center of town making our way to the Vermeer Museum Delft.  While pretty much all the original Vermeer pieces are currently on display in Amsterdam, this museum was well worth the visit.  A reproduction of every piece is on display with an explanation of the painting.  On the top floor (there are 3 floors to the museum) a few paintings were analyzed in depth and Vermeer's use of light explained, details I would have never noticed on my own.  There was also a video showing the restoration of one piece, again detailing how the painting was created and what sections were painted over and changed during it's creation.  While we did not see any original artwork, the analysis of the paintings and explanation of Vermeer's use of light was fascinating and we got much more out of this experience than we imagined.  Tickets cost 12 Euros ($13 USD) each and includes an audio guide.
Having done two museums in one day it was time to wander around Delft and enjoy the outdoors.  As with many small towns, the market square is the focal point, and busiest part of town.  At opposite ends of the square in Delft you will find the New Church and the City Hall with many pretty canals surrounding the square.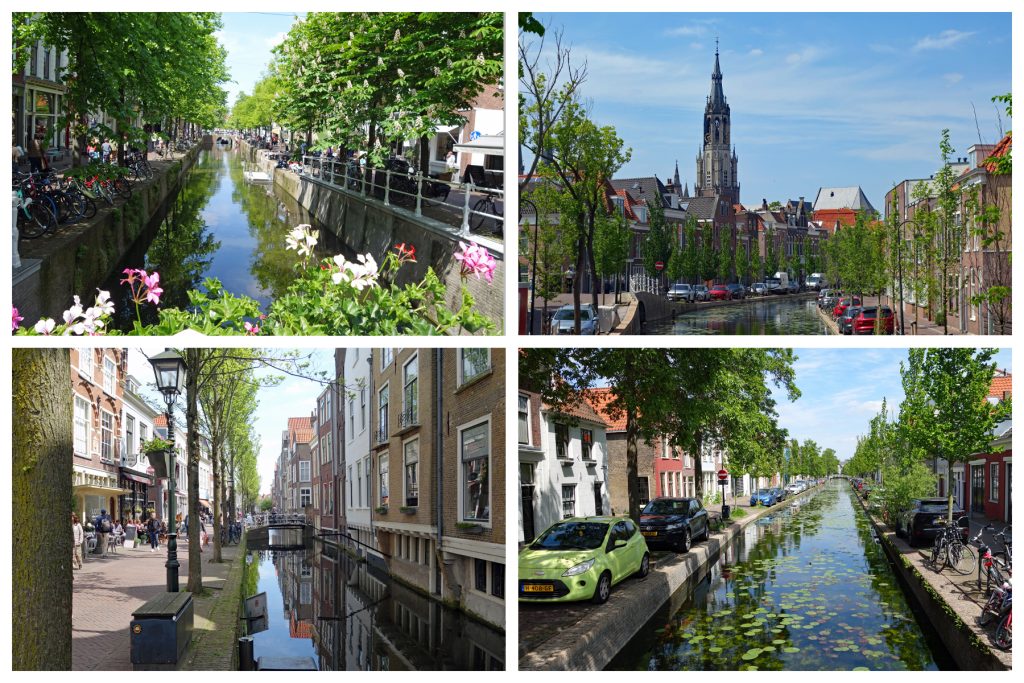 New Church was completed in 1496 and it's bell tower is an impressive 109 meters tall, the second tallest church tower in the Netherlands.  It is also home to the crypts of the Dutch Royal Family.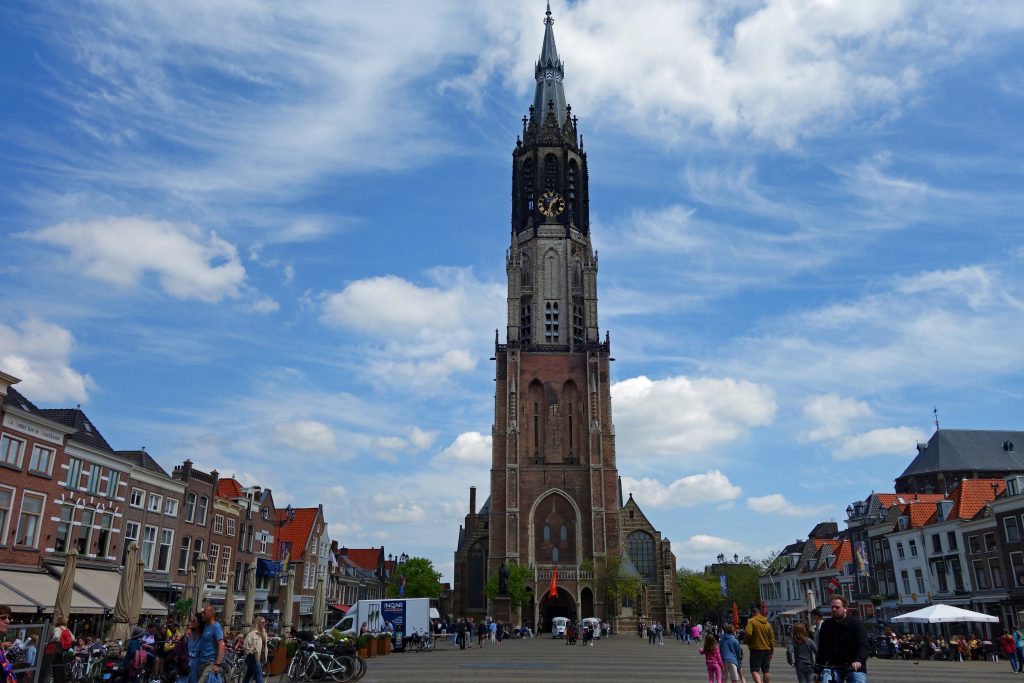 At the other end of the town square is City Hall, rebuilt in Renaissance style (1618-1620) around a medieval tower dating from the 13th century.  The building was heavily changed over the centuries and in the 20th century it was restored to it's original Renaissance appearance.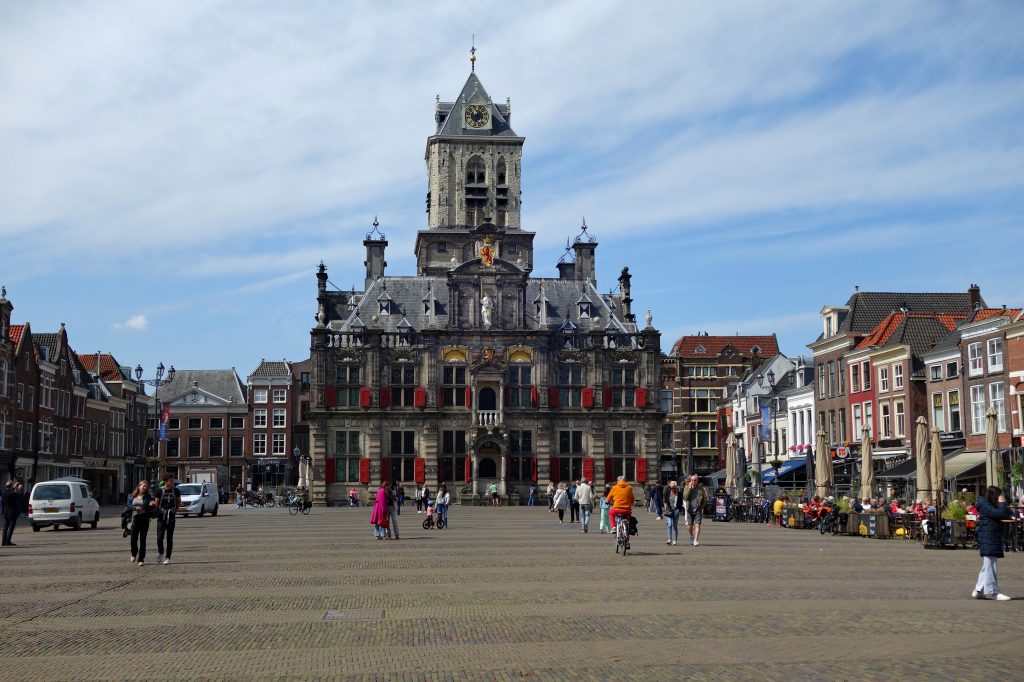 Just around the corner from the market square is Old Church, the oldest church in Delft dating from 1246, with it's striking crooked tower that leans about 2 meters from vertical.  It is here you will find the grave of painter Johannes Vermeer (1632-1675) who lived his entire life in Delft.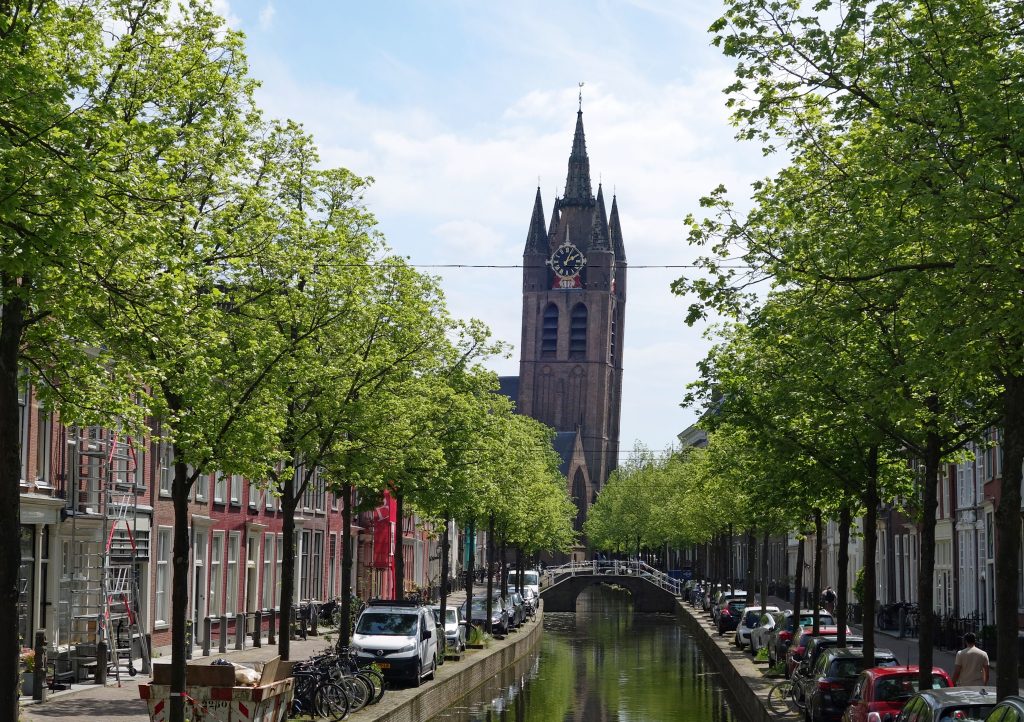 Delft originally had eight city gates and the eastern gate, Oostpoort, is the only one remaining from the 15th century.  It's currently an art gallery and a private residence, how cool would it be to live here 😁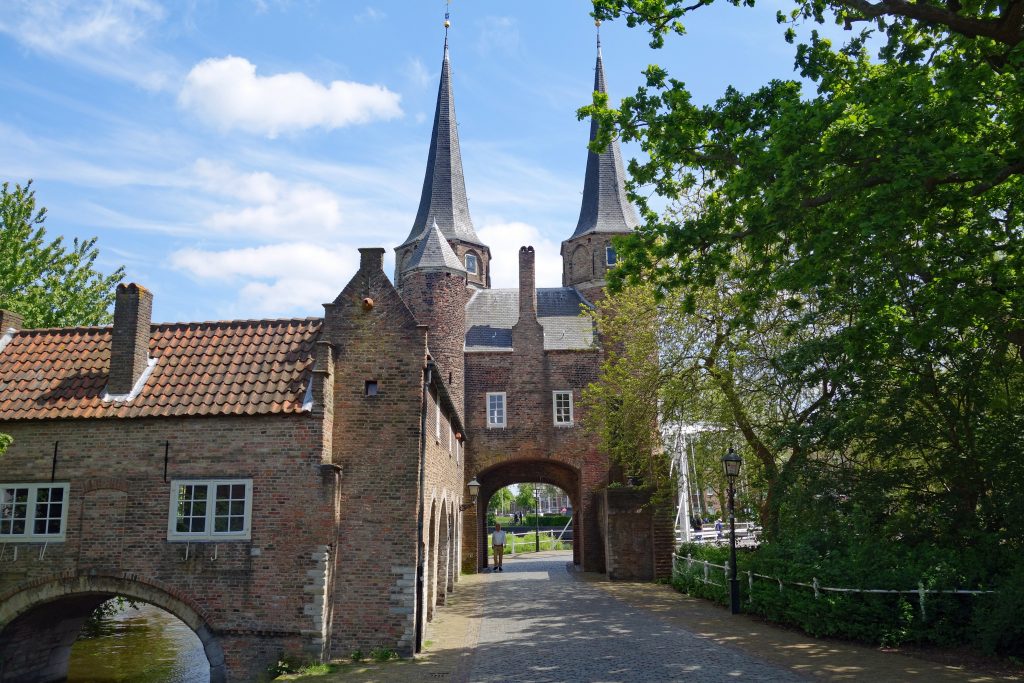 We spent our last couple of days in the Netherlands staying close to home and enjoying walks around our village of Bodegraven and along the canal.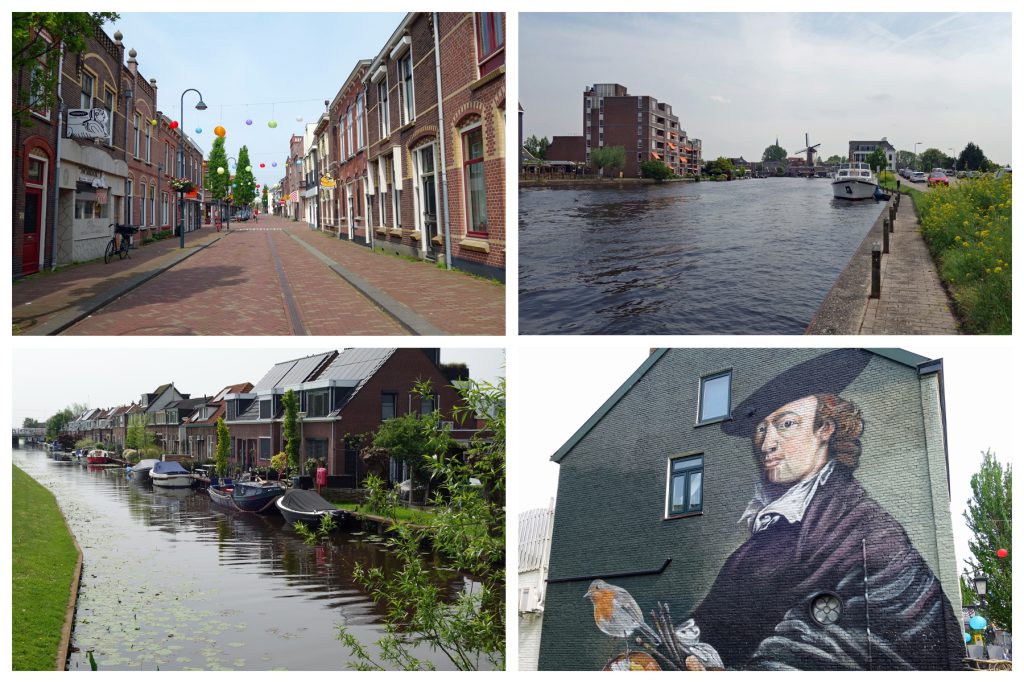 It has been a perfect couple of weeks in the Netherlands visiting many places on our wish list.  Next up is another new country for us, Belgium, and chocolates…..