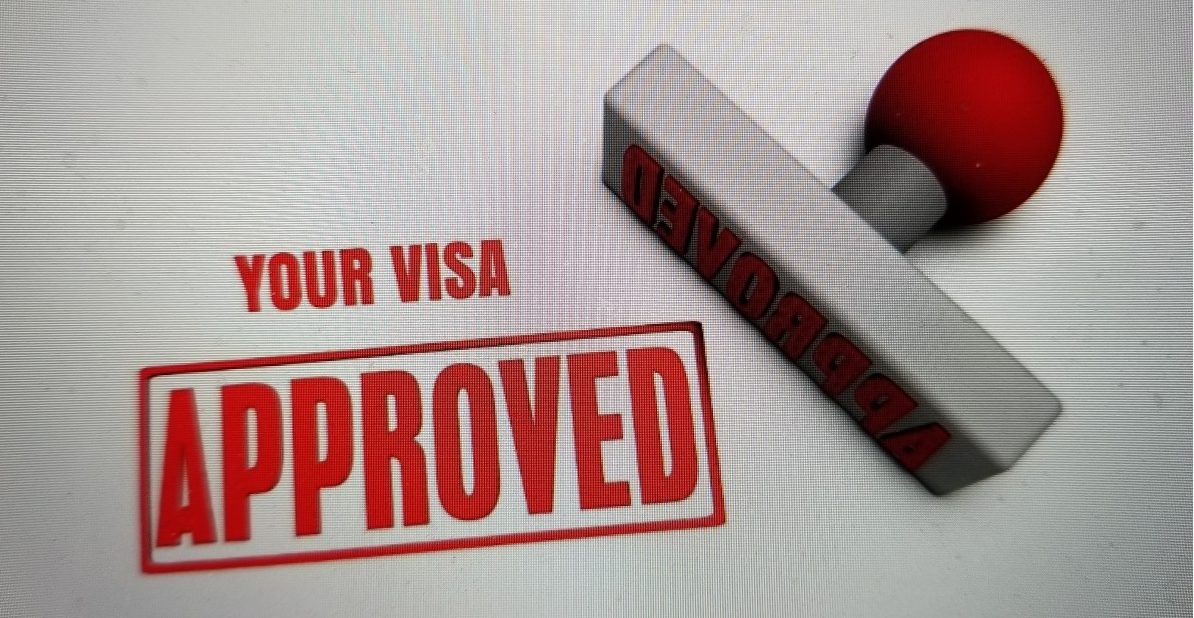 When borders around the world began snapping shut in March 2020 we found ourselves stuck, by choice, in Australia.  Our trip to Bali and Singapore to reset our visa was no longer possible, leaving us in the position of asking Australian Immigration for permission to stay in the country beyond our 90 days visitors visa.  On April 30, a mere 40 days after submitting the application, we received word from Australian Immigration that our request for permission to stay until August 15, 2020 was approved 😁  This extension cost us AUS $385 (USD $225) each still leaving me surprised that Australia is charging for visa extensions when other countries around the world are granting free extensions to stranded travellers.
Why August 15th?  Our original, now cancelled, flight to Canada was booked for July 15 out of Brisbane, we asked for an additional month in case we had trouble finding flights.  This was back on March 20 before we were fully aware of the extent of the flight cancellations and suspensions between Australia and Canada.  As of today, no Air Canada flights are leaving Brisbane for Canada until October 24 and even that is up in the air…..ha, ha, pun intended!!  Flights from Sydney to Vancouver will possibly resume June 25.  As you can see from Air Canada's schedule below it will be a while before routes are re-instated over this way.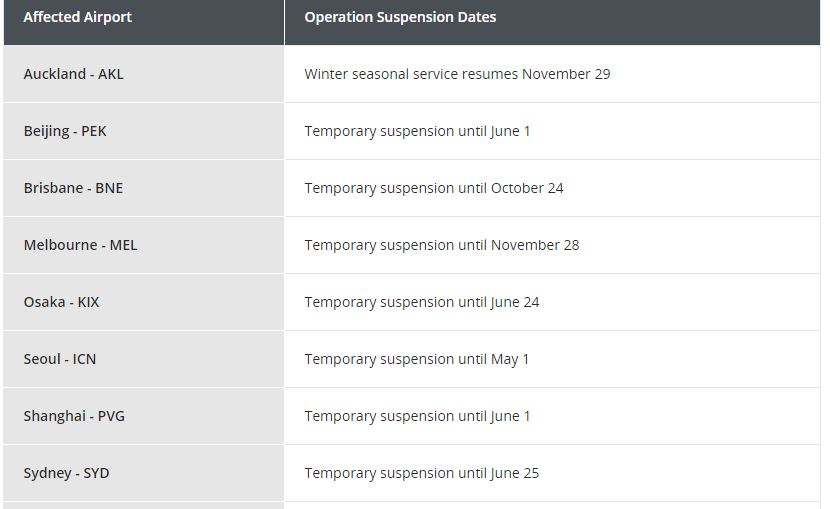 We are hoping to leave Australia mid-June which means we need to fly with an Air Canada partner airline and transit through the USA.  This brings up another issue, commercial flights between the USA and Canada are currently suspended until May 22.  The suspension will be reviewed on that date and a decision made whether or not to extend the suspension.  So we wait until May 22 to find out our flight options.
More than one person assumed with our visa good until August 15 that we would stay until then, this was never our intention.  We settled on a June departure based on current travel restrictions in Australia squashing our hopes of touring the country.  Our time here is already 6 weeks longer than anticipated with the cancellation of our Bali and Singapore trip.  Another consideration is the longer we stay in Australia, the colder it gets, winter is coming 🥶  With our nomadic lifestyle temporarily on hold, it would be nice to spend the summer in Calgary catching up with friends and family, outdoors where social distancing is easily accomplished 😊
During the long wait for an answer re the visa, we had come up with various scenarios that we were ready to act on right away.  The day after we received our visa approval we roughed out a timeline of where to go for the next 5 to 6 weeks ending up in Sydney, and hopefully getting a flight to Calgary.  We are enjoying the warm weather on the Sunshine Coast so we decided to stay here until May 12.  We booked a flight from Brisbane to Sydney on May 12 getting us to the airport we will need to fly out of.  Why are we flying to Sydney?  Firstly the one-way car rental fee was exorbitant, secondly, we had a Jetstar voucher for our cancelled flight to Bali that must be used within a year.  The uncertainty of travel back this way within a year prompted us to use 75% of the voucher value on a flight to Sydney, rather than risk losing 100% of the value if we were unable to fly on Jetstar during the next year.
No matter what happens with flight delays out of Sydney, we are grateful to have permission to stay in Australia with more than enough time for international flights to resume, even if on a reduced level.  As you can imagine, we breathed a huge sigh of relief hearing of our visa approval.  Now off we go to explore New South Wales as much as is allowed and catch up with fellow nomads who are here in Australia.
Stay safe and healthy wherever you are confined to…
Visa Application Process
You must apply for an Australian Visitor Visa prior to arrival, this can easily be done online here.  For a regular tourist visa, we applied for and received an ETA Subclass 601 valid for one year.  Each visit can be no more than 90 days, multiple entries are allowed in that one-year period.  Suited our plans perfectly 😊
With COVID-19 travel cancellations, we needed to apply for a new visa which can be done here.  There is no such thing as an extension which is why we had to apply for a new visa.  The visa we needed this time was the Visitor Visa Subclass 600.  Despite the page header stating this visa can only be applied for outside Australia, we were advised it was OK to apply while in the country.  This type of visa allows you to stay continuously in Australia for up to 12 months.
Before submitting an application for the subclass 600 visa you must set up an IMMI account here.  Once you have this account set up you can proceed through the visa application.  It is a long, detailed and fairly straightforward process.
Once the application is submitted you are granted a Bridging Visa.  This allows you to remain in the country legally while your new application is in being processed, you may not leave the country and return on a bridging visa.  Despite the government website stating the bridging visa is only good for 28 days, I confirmed with the Immigration department that it is in fact valid for as long as the visa application takes to process.  In our case this took 40 days, so it was a relief to find out the bridging visa did not expire.